'Their commitment never waned; it got stronger!'
Image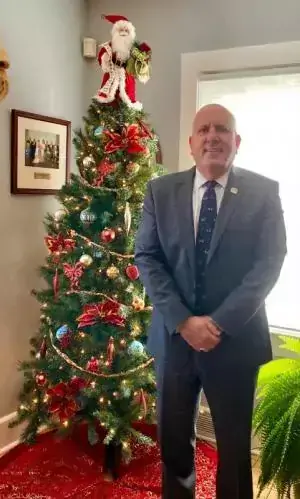 By Tom Protack, Beebe Medical Foundation
When I was young, my grandmother always said, "If you have your health, you have everything!" As I look back at this past year, my grandmother's message resounds in my heart and mind. Who would have ever predicted a pandemic and a year without Easter celebrations, Fourth of July fireworks, summer concerts, and the list goes on and on! 2020 certainly was not the year we did everything and anything we planned for, but rather a year to appreciate everything we truly have: our health, our family and our community.
As we celebrate a new year in 2021, we all have hopeful anticipation, with a vaccine and better days ahead, that we will once again be able to do all those things we had to surrender in 2020. I continue to be grateful for all of our donors and strong supporters who realized how important our healthcare system is, one of the greatest assets in our community. So many donors, young and old, strong and struggling, took the time to donate to Beebe and let our Beebe heroes know that they were appreciated, needed and valued. We had countless new donors reach out with the epiphany of how important it was to support our local community, nonprofit healthcare system so it could remain strong and prepared to care for all of us.
A few days ago, I was eating at the Captain's Crew, our hospital cafeteria. The cafeteria now looks and feels so different than before COVID-19. Now, we sit apart, wear our masks, and no longer have the self-serve salad bar and soup tureens. As I observed my team members coming and going, I soon realized that despite all the obstacles we have faced together during this pandemic, one thing never was taken away: our respect for each other and passion for our work. I saw one of our security team help another team member throw away a food tray. I saw friends who usually sit together wave at each other and share updates on their families from a distance. I heard laughter and friendly greetings. I watched our cafeteria team greet everyone warmly. Despite our social restrictions, it was still a cafeteria full of compassionate, caring people.
I have always realized that there is something special about my Beebe team members, but this year I am reminded just what exceptional and talented people they are. Drs. James and Richard Beebe started Beebe Hospital over 104 years ago as a family-run business where they insisted employees treat each other and their patients as family members. That same culture permeates our hallways, operating rooms and clinics, still to this day.
Looking back at 2020, we certainly have everything if we have our health, but we have even more! We have almost 3,000 Beebe employees who come to work every day to care for us, restore us to health and make sure we know we are safe. We have a community who stood together during an incredible time of need. So, as we welcome the new year, please take the time to thank a Beebe hero or even make a gift in their honor, because, while everything seemed to be taken away from us in 2020, their commitment to us has never waned – in fact, it got stronger!
I wish all of you a happy and healthier 2021!
P.S. To make a gift to Beebe Healthcare, go to beebemedicalfoundation.org/donate or call 302-644-2900.
---