'Tis the season to give thanks
Image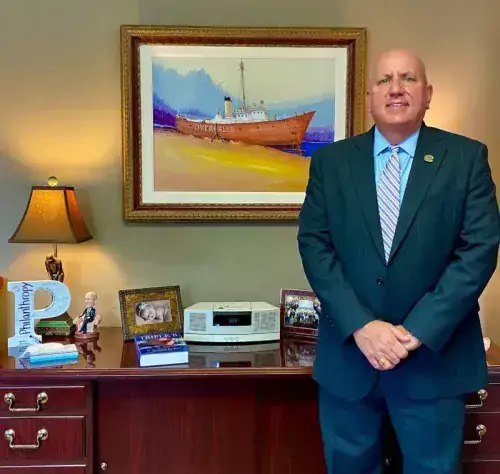 By Tom Protack, Beebe Medical Foundation
During the months of November and December, we pause to remember, to thank, and to give. There seems to be an inherent gene deep down inside each one of us that is triggered every year during the holidays to remember what is important, to give thanks for our blessings, and to give to others. This upcoming holiday season will be entirely different as we struggle with making plans, and settle for less-than-perfect family gatherings, canceled parties and timeless traditions that are altered because of COVID-19.
Research has shown that gratitude is a powerful force. Dr. Robert Emmons of the University of California at Davis discovered that people who practice gratitude are 25 percent happier. They are more optimistic about the future and feel better about their lives. And never has practicing gratitude been more important than during a pandemic.
Whenever fear and anxiety take over, I try to bring myself back to the present moment first: In this moment, I'm OK. I'm safe. And then I try to find things for which I am grateful. Gratitude shifts my energy from one of loss and fear to a much brighter place.
If you are having a hard time finding things to be grateful for as you struggle with isolation, financial worries, and uncertainty, you are not alone. Nevertheless, try to practice gratitude as much as you can, especially now. Trust me, you will find something to be grateful for, no matter how small, and no matter how bleak things seem. Gratitude helps each of us make sense of our past, brings us peace today, and creates a sense of hope for tomorrow!
I invite you during this special time of year to remember all the Beebe Heroes who continue to provide safe care during this pandemic, to thank them for their courage, and to make a gift in their honor. For over 104 years, Beebe Healthcare has always been here to take care of everyone who lives, works and visits in our beautiful Sussex County. As Beebe Healthcare confronts this pandemic, it is important for all of us to realize what a great asset our local nonprofit healthcare system is for all of us. Now more than ever is the time to make an investment in helping Beebe Healthcare not only recover but grow even stronger.
Over the years, so many of our families and friends have been cared for at locations like Beebe's Margaret H. Rollins Lewes Campus or the Tunnell Cancer Center. We all know a Beebe Baby, or maybe we were born at Beebe! We might be one of the 2,700 employees of Beebe who is grateful for our job. Maybe we are a graduate of the award-winning Margaret H. Rollins School of Nursing or know someone who attended our nursing school. Or maybe we just moved here to Sussex County and are grateful to have a strong healthcare system that will take care of us.
Thanksgiving is the perfect time for all of us to make a proud, personal gift and share our blessings to support Beebe Healthcare. If you have been a grateful patient and supporter of Beebe Healthcare, thank you! If you have never made a gift to support your community healthcare system, now is the time. Next Tuesday is Giving Tuesday, a day set aside to remember all the charities we hold dear to our hearts. I encourage you to make a gift: Go online and make a donation at beebemedicalfoundation.org, or simply call us at 302-644-2900.
I wish all of you and your loved ones a Happy Thanksgiving. Please stay safe and stay well. And if you need care, please be confident that you are in good hands, the Beebe hands of our Beebe heroes, the caring and compassionate hands that have taken care of us for over 104 years!
As a community-based, not-for-profit healthcare system, Beebe Healthcare depends on the generous support of the community it serves. To make a gift to celebrate the excellent care you or a loved one has received, visit Beebe Medical Foundation at beebemedicalfoundation.org or call 302-644-2900. Want to share your story? Contact Amanda Neal at [email protected].
---