Boomer Unchained: A Winter Like No Other
Image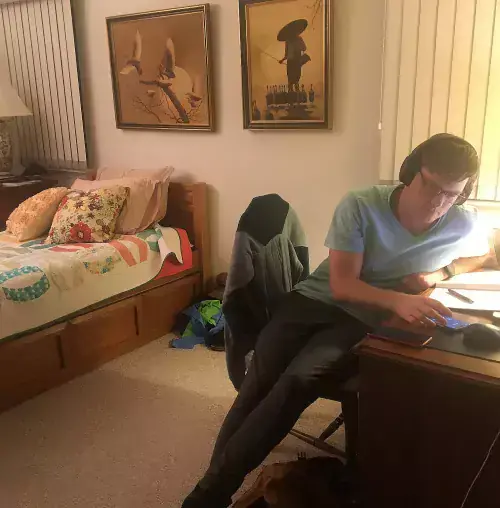 Colder and darker days are influencing how we deal with the pandemic, which, as predicted, is getting worse.
Gov. Carney tightened the COVID-19 restrictions November 17. People are scrambling to get tested with hopes they will be able to spend time with at least some of their family members during the upcoming holidays.
"Every cough, every stomach ache, makes you think we have COVID," my friend Marjorie said on a Zoom call today. Heads nodded as those on the call agreed with her. 
It's a scary time. It feels as if our lives are out of control, and somehow the approaching winter makes it feel worse. I told my friend Carole my head feels like I am in chaos, and I am having trouble thinking. 
"It's normal. We all feel the same way," she said, offering me some encouragement that dementia wasn't setting in.
We are hearing about the possibility of a vaccine to be available some time next year, even as we hear about an increase in the number of people sick, people in the hospital, and people dying.
Virus fatigue is here. "Enough already," my immigrant grandmother would have said.
As we face all this uncertainty, how can we instill order into our lives? 
How can we feel normal? 
Two things for sure: Share the holidays in some small way and organize our homes.
Holiday gatherings: Most of us are still figuring out how we are going to celebrate them.
"I can't even see my brother," one friend said. 
"We decided to just stay home," another said. 
We as "seniors" are worried about staying alive. Haven't we heard continually that anyone over 65 is in the risk group? Most of us have given up on extended family gatherings. 
Some of my friends are planning to get together with one adult child's family, not all of them. Many friends are avoiding young children altogether. 
One of my two sons and I are getting together with my sister and her husband, but her two grown children aren't coming and neither are the rest of the family. We'll be four. And three dogs. 
One of my neighbors is delivering food she will cook to several households. Her meal will be with her husband only.  Some friends already have hunkered down in Florida. 
COVID tests have suddenly been hard to come by. Testing centers are swamped. A place opened up a few weeks ago near me on Coastal Highway in Lewes and it's slammed already. Some people who live in the Lewes area are driving to Milford and Georgetown to get tested.  Why the sudden rush? Holidays. Everyone wants to make sure they are clear of the virus before they set out to participate in a small, family gathering. 
Becoming neat freaks: If our personal space is orderly, doesn't that at least feel like everything will be right in the world? A group of us talked about that and came to the conclusion that if we can control our immediate environment, it will make us feel better about what the virus, and the political situation, is doing to our lives.
 People are posting photographs of new shelves and cupboards on Facebook. People are clearing out unwanted stuff as they organize or remodel their homes. 
I didn't realize how many people have been giving away stuff they didn't want until I tried to give away books I didn't want. Downsizing my book collection was my first effort to straighten my home. I have way too many. Books are dusty and take a lot of space. I have literature books from college, a collection of cook books I have amassed since 1971, and some of my mother's British murder mystery books. She died in 1988. 
I targeted the overflowing bookcase in my second bedroom/home office as the place to start for effort to bring order into my home. My youngest adult son was coming to visit in advance of Thanksgiving and I thought it would be nice for him to be in a neatened room. Since he has been working virtually since February anyway, he arrived in good time to quarantine before Thanksgiving so we could visit my sister. I pulled all the books out, and dusted both them and the bookcase. I stacked them on the floor according to subject: history; English and American literature, poetry, art, Judaica, writing, a Dostoevsky collection, cooking, best sellers, and books I just want to read. Then, I set to work to decide which ones I could live without. I am embarrassed to say that I earmarked nearly 50 books for the give-away pile.  I also threw away stacks of magazines I have been saving for years. 
Then to get rid of them. Several of the places I called didn't want them. Libraries, thrift shops and even a couple of senior centers said they weren't taking books.  Looking at the four, full bags in my living room, I became desperate. I finally started asking people I knew who locally is taking books. Someone mentioned Conley's Church, which happens to be a mile or so away from me.
A man on the other end of the phone laughed when I asked about books.
"There aren't any encyclopedias, are there?" 
"I haven't seen one of those in 40 years," I responded. 
He said I could bring them over. But when I asked if the church needed anything, he laughed again.
"You and everyone else is cleaning closets."
I suspect there will be more organizing this winter, more built-in closets and other home projects that will continue to keep Lowe's in the black. 
My next project is organizing my files, which are in pretty bad shape. I've got a stack of banker's boxes with old files in them, ten years of tax returns and twenty years of financial records. For that, my son bought me a shredder. 
 
---