Unexpected diagnosis is a testament to Beebe's great care
Image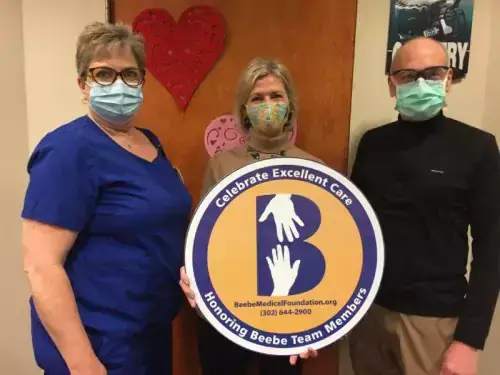 By Jean Winstead

Sometimes the path to a diagnosis isn't what you expect. In February, after an area on my left leg wasn't healing from a skin freezing, I shared my anxiety with a friend and work colleague, Bonnie Cunningham. She agreed it was concerning and said I should reach out to Dr. James Spellman, a surgical oncologist at Beebe Healthcare, to make an appointment.
As Beebe's Health Sciences librarian, I have worked with Dr. Spellman for many years obtaining evidence-based articles and research. After my experience with a wound healing issue in 2015, I was extremely worried I might be faced with another such problem. Dr. Spellman directed me to his nurse, Mary Spradlin, to schedule an appointment. She was so kind and reassuring that he would take care of me! At my appointment, Dr. Spellman performed a biopsy on my lower left leg, and fortunately, the result did not indicate cancer.
Prior to the procedure, he questioned the swelling in my left ankle and diagnosed me with lymphedema. I have been burdened with intermittent swelling since 2011 following extensive ankle surgery with retained hardware. I had no clue this was the cause, and also no idea what effects untreated lymphedema can lead to. Lymphedema is the buildup of lymph – fluid that surrounds your tissues. The lymph fluid that collects in the skin and underlying tissues can be very uncomfortable. It can keep nutrients from reaching the cells, interfere with wound healing, and lead to infection.
Dr. Spellman referred me to a lymphedema specialist, and I now have a lymphedema pump which helps with circulation. I also wear compression stockings regularly to control the swelling. These things are working! I had assumed lymphedema was a condition that affected breast cancer patients, since I have had opportunities in the past to research that aspect of care for some of our clinicians. Now that I know I am dealing with lymphedema, I can manage this condition (which has no cure), thanks to Dr. Spellman's knowledge and referral. Thank you just doesn't seem to be enough.
As a community-based, not-for-profit healthcare system, Beebe Healthcare depends on the generous support of the community it serves. To make a gift to celebrate the excellent care you or a loved one have received, call 302-644-2900. Want to share your story? Contact Amanda Neal at [email protected].
Caption: Beebe Health Sciences Librarian Jean Winstead, center, celebrates the excellent care - and unexpected diagnosis - she received from Dr. James Spellman and Mary Spradlin, his nurse. Shown are (l-r) Spradlin, Winstead and Spellman. 
---