Technology is the backbone, and team members are the heart
Image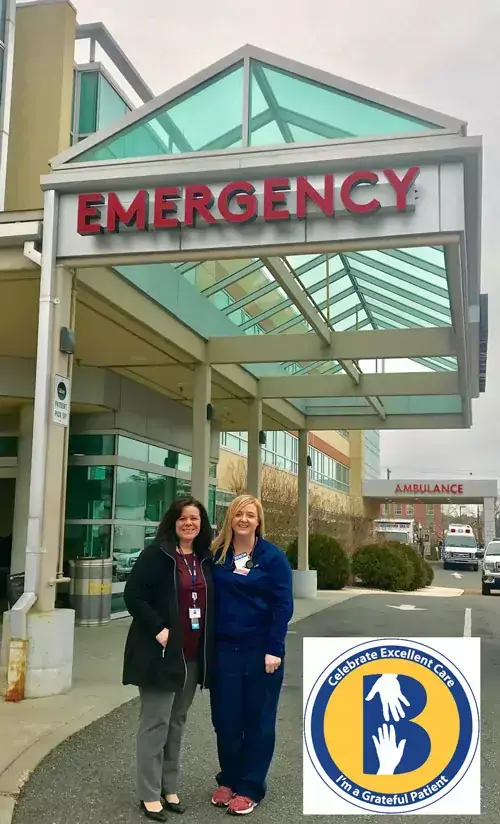 This article is about my 94-year-old mother-in-law, Dorothy, who passed away at Beebe in November. I am a Beebe Information Technology employee. I manage the clinical applications that allow Beebe nurses and doctors to electronically care for our patients instead of having to chart patient care on paper. It is through this lens that I share my experience.
Dorothy had stage 4 kidney disease for over 10 years, but she had only been in a nursing home for six months when I received a call from my sister-in-law that Dorothy was being taken to Beebe's Emergency Department. While I'm used to attending meetings in the ED, it's very different being there in a room with a patient. I was thankful that it wasn't me hooked up to the monitor, because my blood pressure was probably super high!
Our ED nurse, Amber Bennett, was excellent. Confident and calm, she explained everything that was going on. Dorothy was her focus. Reassured by Amber's abilities, I noticed that my attention was drawn to the vital signs monitor, and I was thankful for Beebe's strong technology backbone. As we watched Dorothy's vitals in real time, it brought us great comfort. It was also comforting to notice that every single person practiced exceptional hand hygiene.
The ED phlebotomist with her portable, compact cart appeared at the bedside with everything she needed to begin Dorothy's health profile. She was exceedingly caring as she spoke directly and clearly to Dorothy. The X-ray technician came along with something I'd never seen before – a portable X-ray machine. He positioned Dorothy without causing her any pain, and quickly and efficiently X-rayed her lungs. What incredible technology, and what an adept team.
Dr. Eric Gallagher – my new favorite doctor – was honest and clear when he explained Dorothy's health status to us. He spoke plainly about advance directives and moving Dorothy to the ICU where the incredible team there would attend to her around the clock. Dr. John Cortina and his physician's assistant were kind and considerate in speaking with Dorothy and the family. On the ICU floor, the exceptional team of nurses and PAs cared for her throughout the night.
Dorothy was on what's known as "comfort care." The room was private and comfortable, with no monitors beeping constantly, and from Dorothy's room, I saw Beebe nurses accessing the electronic Rx Station in the hallway. This technology enables timely delivery of patient medications, and once again, I felt proud to be part of the Beebe team.
My feeling of pride continued the next morning when I learned that Beebe's Environmental Services team had delivered recliners to Dorothy's room for the family members who stayed overnight, and that Beebe's Food Services team had given them food and beverages – wow.
Dorothy passed away peacefully that morning, and the ICU team took care of many details for us.
Simply stated, compassion is alive and well at Beebe Healthcare. The day after Dorothy's passing, my colleague, Catherine Walls, stopped by my office to ask how the family and I were doing. A genuine act of caring.
Technology is also alive and well at Beebe! As the family member of a patient, I was impressed to see the advanced technology at Beebe and the talented teams that are obviously experienced in handling it.
So, I look at my co-workers a little differently now. They touched my life and my family's lives in a very special way when my loved one was in their care. I am proud to work at Beebe, and I am proud to support Beebe as a member of the 1916 Club.
As a community-based, not-for-profit healthcare system, Beebe Healthcare depends on the generous support of individuals, local businesses, corporations and private foundations. Please contact Beebe Medical Foundation to make a gift or call 
302-644-2900
.
Caption: Lyndy Darwicki, left, takes time to celebrate the care provided to her mother-in-law, Dorothy, by Emergency Department Nurse Amber Bennett, right.
---