Boomer Unchained: Let's Save the Monarchs
Image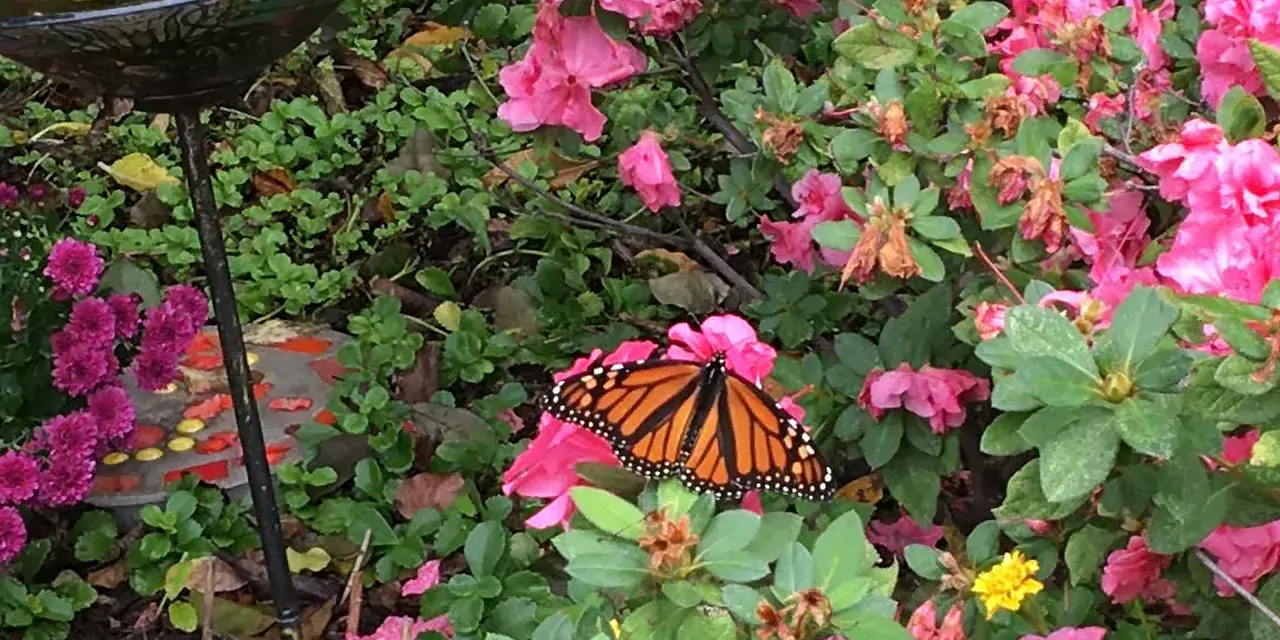 Those of us who live in southern Delaware have a wonderful opportunity to help monarch butterflies in their fight for survival. As you may know, these creatures are dramatically decreasing in numbers due to many factors including loss of habitat and pesticide use. 
Delaware is located in the migration path of the Monarch that live in the eastern United States. Through several generations, each spring and fall they travel between Canada and Mexico. Southern Delaware, located on a peninsula surrounded by the Atlantic Ocean, the Delaware Bay, and the Chesapeake, is a waystation for migrating butterflies, as long as there is enough milk weed to feed them in their caterpillar stage.
There also are Monarch on the West Coast, but they generally do not migrate. There are some Monarch found in Florida, but they are not migrating either.
If you happen to see some Monarch butterflies this spring in your southern Delaware backyard, they are the fourth-generation offspring of parents that have overwintered in the fir trees of the Sierra Madre mountains in Mexico. While the bulk of their lost habitat is in Mexico where forests are being destroyed, milkweed in Delaware also has been lost to development and efforts to rid roadways of weeds. There are a few different kinds of milkweed that grow in Southern Delaware including, Butterfly Weed, Swamp Milkweed, and Poke Milkweed, all of which you can plant in your garden.
Last October, a monarch visited my little garden at my condo, and landed on an azalea bush near my front door. I managed to get a photograph of it, and realized how lucky I was to have come so close. It made me feel spiritual. 
On March 2, I attended a presentation on "Saving the Monarch" that took place at the Laurel Public Library. Speaker Mike McFarlin, now retired and living in Milton, has spent the last several years capturing, raising and releasing monarch caterpillars and butterflies. He has started a local movement with residents following in his footsteps. 
Mike said the expert in saving these butterflies is Delaware Nature Society educator and naturalist Alice Mohran ([email protected]), who is based out of the Society's Abbott's Mill Nature Center near Milford. I recently called her and she sent me tons of information on native plants and how to create gardens that support butterflies, bees and other pollinators, and on creating waystations for monarch butterflies. She emphasized that you don't have to have a large backyard to create a butterfly-friendly garden. You can even do it on a porch. Below, I have included some links she gave me regarding the migration of monarch butterflies, and how to create gardens for butterfly and other pollinators. 
On Monday, March 30, at 6 p.m. Alice will present a program on "Gardening for Butterflies and Clean Water Preservation" at the Laurel Public Library.  The program will present information on how to create a backyard with up to 20 native plant species that could attract 15 migratory birds and five kinds of butterflies. The presentation is conducted through a partnership between the Delaware Nature Society and the National Wildlife Federation. 
After attending Mike's presentation, I realized how lucky I am to be leaving in such a beautiful place. When we sit in traffic on Route 1, I fear we forget that development on this peninsula is still only a small part of it. 
Abbott's Mill Nature Center also has several programs you can get involved in. While the general advice here is not to plant perennials outside before Mother's Day, we can still learn about our local environment and get involved. Below is a list of places in Sussex County where you can buy native plants.
Native plant sources:
East Coast Garden Center - www.eastcoastgardencenter.com –30366 Cordrey Road, Millsboro, DE  19966
Inland Bays Garden Center -  www.inlandbaysgardencenter.com  -38320 Muddy Neck Road, Frankford, DE  19945
Jeff's Greenhouses - www.jeffsgreenhousesde.com  -7781 Main Street, Bethel, DE  19931
Lakeside Greenhouses -  www.lakeside-greenhouses.com – 31494 Greenhouse Lane, Laurel, DE  19956
Pepper Greenhouses -  www.accentsforhomeandgarden.com -13034 Cedar Creek Road, Milton, DE  19968
Sandy Hill Greenhouses, 18303 Sand Hill Road, Georgetown, DE  19947
Sussex Conservation -    www.sussexconservation.org  -under shop tab allows you to search for native plants that they have for sale in Georgetown. ONLY
NATIVES/Georgetown Nursery Site. Visit by appointment.
Resources to learn more:
For native plants and garden ideas to support Monarchs and other butterflies visit Monarch Watch (https://monarchwatch.org/waystations/)
Visit Journey North (www.journeynorth.org) to learn more about this amazing migration
Protecting the environment through Delaware Nature Society's Abbott's Mill Nature Center near Milford
https://www.delawarenaturesociety.org/what-we-do/protecting-habitats-wildlife/
Story in the Cape Gazette about Mike McFarlin
https://www.capegazette.com/article/milton-man-mission-monarch-conservation/138110
---