Boomer Unchained: Pack Your Bags - Don't Forget Your Pills & Spanx
December is overwhelming: 
•    Holiday parties, parades, festivities, and family gatherings. Church Christmas services and Synagogue candle-lighting ceremonies. 
•    Shopping. Over-flowing outlet parking lots and out-of-state license plates cutting you off on Route 1. 
•    Piles of mail and email messages alerting you to end-of-year giving. Urgent paperwork to prepare for tax season.
And, TRAVELING! 
What is December if you aren't going somewhere?  Don't you have to plan a trip to see the grandchildren? You push away the pile of papers, calendar with illegible handwriting in the squares, and 'to do' lists on your desk to find airline deals on your computer. You Google "flights" and stare into the screen. Isn't there a specific day you are supposed to shop for flights? Was it Monday? You don't remember.  Does that mean you are having short-term memory issues? Oh no. That's all you need. You do remember airline prices change by the minute, sometimes down but mostly up. You also know that the most convenient flights are the most expensive, and the less expensive ones come and go at the most inconvenient times, like the red eyes or those that leave at 8 a.m. for the West Coast, which means you have to be at the airport, bags in hand, by 6-ish. 
And naturally, the West Coast is your destination. It seems to have been the great job spot for your child, or child's spouse, and that's where the grandchildren are.  There are some airline deals if you stop in Missouri, but you decide against it. You grimace and go for the nonstop and the extra 150 bucks. You have to avoid getting stuck by a snow storm for days half way to California. Then there is TSA Precheck. It costs extra but think of the lines. Those are shorter. Do you pay more for a bigger seat and to leave your coat and shoes on through security? Decisions, decisions. Cost versus comfort. Can you afford any of this?
Then there is the question of transportation to the airport. You are two hours or more away from an airport here in southern Delaware. Do you find airport parking with Google and make a reservation, or can you find a service to drive you? An airport shuttle costs a few hundred dollars from here! Ridiculous. Absolutely ridiculous. You have a friend who hires a guy cheap to drive her in her car, and then drive the car back again, leaving it at her house until he goes back to get her. Do you want to have a stranger driving your car back and forth to the airport, on those roads, in the winter, and then having access to it the entire time you are gone? Remember the lecture your insurance company person gave you over the phone when your friend got into a rear-end accident while driving your car. Your friend was the one doing the rear ending.  So, you decide instead to find airport parking. (Cost versus stress-less comfort). 
Now that you are looking for airport parking, are you looking for a lot, or do you need to stay at an airport hotel the night before the flight? Naturally, the best flight was the one at 8 a.m. Do you risk driving from Lewes or Bethany early enough in the morning to make the 8 a.m. flight? What if Delaware has icy roads at 4 a.m.? Or a crash that closes down Route 1? You book a hotel at the airport with parking. The trip before the trip.
So where are you going to stay when you get there? Do the kids have room for you? If not, where are you going to stay? If they are in California, prices are nuts. Hotel rooms are $300-a-day-plus. You check out Airbnb. You book a one-bedroom for the week a few miles away.
Time to Pack
You decide whether you are bringing gifts or buying them online and having them sent. If you buy the kids something locally, do you want to pack it up and send it yourself? You could do that. The guy at the Post Office is nice and always helpful.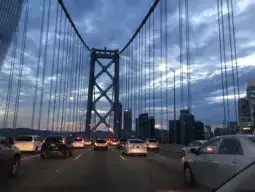 How much room do you have in the suitcase? Or, how big of a suitcase are you going to take? You pull out the medium-sized one and spread it across the chair in your room. Start throwing in underwear for a week, not forgetting your Spanx and a small bottle with liquid soap for delicates. Then you make your list. Your friend has one list she keeps for every time she travels. Why don't you do that? You have to start from the beginning every time. You keep the suitcase open for a few days before you leave, adding as you think of things that you forgot to put on the new list. You wouldn't forget your pills, would you? Why don't you pack them as soon as you think of it?
Your robe takes up too much space. What are you going to wear instead? How much room are the kids presents going to take? You decide to buy them online. Maybe you bring a small one for each child and have the rest shipped.
You look back at your desk and pick up the calendar. You have a party this week and you have to make a dish. What are you going to make? Look for a recipe online and start a shopping list.  Oy. The year-end giving decisions also have to be made soon, definitely before you leave on your trip. Where's the budget you were working on? It's in that pile, somewhere.
Happy holidays and here's hoping you get everything done in time to enjoy some of this special season!
 
---