Boomer Unchained: Remember Your Health this Holiday Season
I guess it was pretty silly of me not to expect Route 1 between Lewes and Rehoboth to be gridlocked on 'Black Friday.' 
That day, The Wall Street Journal reported national holiday spending this season could reach $730 billion, or about 4% above last year's $707 billion. That's a lot. That percentage increase is more than inflation and definitely shows people are NOT postponing Christmas Shopping to see what happens to Trump. Google analytics reported online shopping numbers on Thanksgiving Day were up 15% above last year. (Doesn't anyone watch football or the Macy's Thanksgiving Day Parade anymore?).
Clearly, Rehoboth's Tanger Outlet stores were getting their share of sales revenues. Online buying or not, shoppers hit the local outlets with a force equal to a California earthquake.
It took me a nanosecond after spotting that frightening, bumper-to-bumper situation to turn my car toward the opposite direction. I had been planning to drive south from Lewes to Bethany to visit art studios participating in the Southeastern Delaware Artists Studio Tour (SEDAST), but chickened out. WAZE told me it would take 65 minutes to get to Bethany from Five Points, where I was at that moment.  While I was looking forward to visiting the artists, many of whom I know, and even buying some handmade jewelry, handmade cards, or other small items as Christmas presents, I decided I wasn't going to sit in a car for hours (considering the return trip), which could have caused a deep vein thrombosis (well, maybe).
Instead, I wanted to be relaxed, to focus on my health and on recuperating from the amount of rich and sugar-filled food I had consumed the day before. (Shopping would come in the following days).
As I looked at the traffic, I already was imagining globs of fat from the party potatoes and sausage stuffing clinging to the inside of my baby boomer arteries, and that maybe, just maybe, a brisk walk would dissolve the fat and keep it flowing until it could somehow find its way out of my slightly overweight body.
Isn't that what we think? We can save ourselves from some disease. All we have to do is eat right and exercise. I took a big drink of water from the bottle I keep freshly replenished in my car. Water is good, right?
Friday's blue sky signaled any exercise I might do, could be done outside, even though it was in the 40s. Besides water, I also keep an extra pair of gloves, a scarf, a jacket, sweatshirt, and a fleece hat in my car throughout the winter months, just in case. Yes, there is a first-aid kit in the trunk with an emergency blanket, six shopping bags, an umbrella, and ice scraper.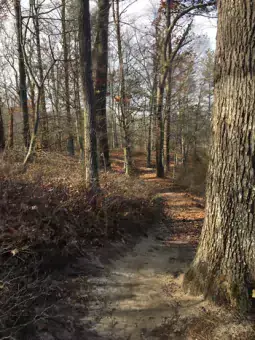 As a tree-hugging Californian, my favorite thing to do living in Delaware is to take nature walks. And, with so many people on Route 1, I figured the state parks would be more peaceful since winter is not the popular outdoor season in Delaware. Most people don't want to be outside when it is in the 40s or below, so I have discovered after more than 20 years of living here. They think 'beaches.'
As many of you know, Delaware is on a peninsula, and so has many ponds, marshes, woods and wetlands. On 'Black Friday,' I headed north on Route 1 to Killens Pond. I'm so glad I did. What a wonderfully healthy and peaceful way to spend 'Black Friday.' It was like meditation. There were enough people walking the Pondside Nature Trail that it wasn't creepy, like I was a woman alone who would be mugged. Couples chatting, children with dogs, and single adults with dogs passed me. There was a slight echo of laughter in the woods together with the sound of the wind and of silence. The campsites, surprisingly to me, were filled with campervans, families and their dogs. Children on bicycles. All at the same time. I walked the entire circumference of the pond, which is about three miles or so, if you consider that at times I got marginally lost in the fallen leaves. I walked fast to try and up my heartbeat, and then would stop and look out at the breathtaking views.
We are so lucky in Delaware. The nature center building was filled with children laughing. I imagine there was some kind of children's program. There was a 5k event the day after I was there. Thankfully, I missed that. That would have been like Route 1.  The day I was there, I noticed one fisherman had taken out his dingy and was enjoying the late morning on the middle of the pond. My Fitbit showed I had done more than 8,000 steps in the park. I felt so healthy and pleased with myself. My arteries even felt better. I got back to my car, took off my hat and drank the rest of my water.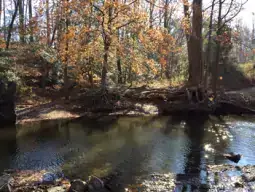 Most of us have a busy holiday season this month. Hectic shopping, gatherings and lots of food. Drink. Spending too much money and then knowing we'll deal with it in January. However, some of us are having a lonely and difficult time, too, I know, and need the rest of us to help.  But all of us have our state parks, and they are such a wonderful place to visit this time of year, when you want some quiet time. They are free of crowds, and full of natural beauty, and birds, and some other wildlife.  And, for those of us who may have mobility impairments, there are wheelchair-accessible view areas where one can watch the waterfowl and the birds, and if one is very quiet, hear the wind in the trees.  This little state is a special place.
Resources for more information:
Delaware State Parks: https://www.destateparks.com/
---