Boomer Unchained: Staying Healthy in a Seemingly Endless Pandemic
Image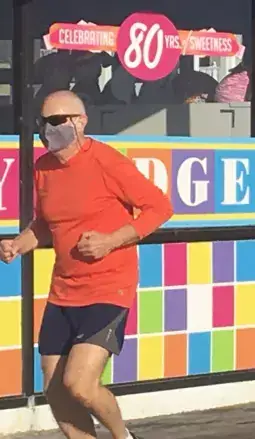 Seeing walkers, joggers, and cyclists wearing masks on Rehoboth Beach boardwalk makes it sorely obvious we haven't emerged on the other side of the pandemic. And, yes, I wear a mask. 
It's October. Didn't we expect our fear of illness to be behind us? At least we might have entered a "new normal" where we could relax a bit, get together with friends inside, and attend some public events. Right?
Instead, it's almost worse than it was at the beginning of the pandemic. I just heard the other day that the virus is being spread at gatherings of close friends and family. Young people are giving it to their grandparents. We're supposed to be ten feet apart now, not six, and the particles hang in the air inside rooms with little ventilation for hours, waiting to pounce down our throats. As fall turns into winter, we are advised to bundle up so we can still be outside.
STRESS
I keep reading that pandemic-induced stress is on the increase, and so are car accidents. Car accidents.
Even the Wall Street Journal carried a story recently about the nationwide increase in fatalities this year from collisions. People appear to be driving badly. My adult son advises me to avoid driving at night because of the erratic behavior he has seen drivers display. Not that I pay attention to his advice, but he does have a point.
Local roads like Beaver Dam, Cave Neck and Robinsonville are scary at night with no streetlights and headlights glaring in our faces as we round a bend. And, Route 1 is no picnic either.
One evening earlier this month, a good friend was in an accident on Route 1. Driving along in the stream of traffic, he got hit by someone making a left turn onto Cave Neck Road (That should not be legal anymore). My friend, in his 70s, is recovering in a rehab center. 
People are stressed. Alcohol sales are off the charts. People aren't sleeping. 
We can't socialize like we used to. To make matters worse, the airwaves are filled with grim news. To avoid being political, I'm not pointing out what that news is. All I will say is that no one appears happy with the political situation.
Living Healthy
How do we baby boomers (and older), in this environment, maintain our health? 
Find a balance with our time: We know things aren't good, but focusing on what's bad only brings more stress into our bodies. We have to find that balance, stay engaged in proactive activities such as letter writing and phone banks we believe can make a difference, helping others, donating our time, doing positive things, while disengaging enough for our physical and mental health. 
Morning meditations: I've never been one to meditate, even though many of my friends do. I am revisiting my decision not to meditate. I believe that, especially now, it is the only way to totally disengage from the harmful stresses around us. It's a way to be completely calm, and give our bodies and minds peaceful moments. 
Journaling: Writing down our thoughts is another way to get stress out of our bodies and to disengage from the stimuli around us. We can find a private spot and interact with our own thoughts. Writing about things we are grateful for also helps. If, every day, we write down five things that we are grateful for, that effort puts us in a more positive, hopeful place. I am learning that through the study of Mussar. 
Exercising: We hear so much about the importance of exercise that we can easily ignore the advice. But, from what every doctor and other healthcare provider has told me, exercise is critical to our physical and mental health. Because of my dog Duncan (a 10-year-old Jack Russell), I walk at least four miles a day. My doctor says dog-walking isn't enough exercise for me, so I also do my barre classes on Zoom a couple of times a week. I can't say all this exercise keeps me completely stress free, but appears to be helping my physical condition. Despite my love of ice cream and chocolate, I haven't been required to take cholesterol medication yet. My blood sugar is where it should be and my weight isn't awful.
Social contact: According to my doctor, we should be 'physically distancing,' not 'socially distancing.' Human interaction is critical and we have to find ways of being with friends and family, even if we can't hug and kiss everyone. Luckily, so many of my friends have been able to get together with children and grandchildren. People are constantly getting tested for the virus to make sure they can come together. Unfortunately, that's a slippery slope as you could have been exposed yet test negative. All we have to do is look at what happened at The White House to know that. Still, we have to find ways to see each other and to laugh. I have walked with friends and come together with them in backyards so many times. We text, we FaceTime, we Zoom, we find ways to interact. People I know are finding creative ways to get together. One couple flew to the West Coast, quarantined for 10 days and then got together with their grandchildren. People are quarantining before they visit others. Right now, that's 'the new normal.' 
Stay busy: Find 'safe' things to do that you enjoy. 
Medical care: We still have to get our checkups, get our flu shots, fill our prescriptions and visit the doctor if there is a medical issue.
Thankfully, friends that have needed surgery have been able to get them quite safely and quite successfully. Despite what some people say, hospitals are safe. Protocols are in place. 
I hope we can continue to practice a healthy lifestyle to maintain our health as we get through this difficult time. 
---