Boomer Unchained: What will the Kids Say? And other (senior) Dating Challenges
Dating in the over-60 crowd is on the rise, according to a number of reliable sources, such as the Pew Research Center, and the Journal of Marriage and Family.  Many of the newly dating have children and grandchildren, no doubt.
Dating opens a new world of challenges, not the least of which is getting the children to accept it. I'm not saying all children are close minded, but in this case, with ages ranging anywhere from the 20s to the 50s, they surely have cultivated opinions on what their 'senior' parents should be doing. It's not unusual for adult children to be protective, making sure we don't fall down the stairs or drive at night if we can't see well. It's weird to think about being that "old person" the children worry about, but so be it!
Those of us who date may have to tread lightly with the children. Luckily, they can't give us a curfew or take the car away, like we did with them in their teenage dating years. But they can ask us what we know about the person, and remind us to make sure we are not being taken advantage of. We take the pep talk with the understanding they are worried about us, and then, hopefully, do what we want.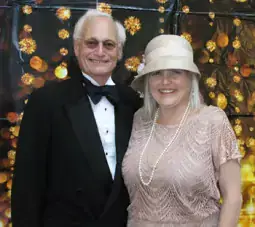 Finding someone to date can be a proactive effort, such as through the use of online sites, or it can happen by accident. We can meet someone playing pickleball, perhaps, or at a golf club, at church, on a cruise, at a social gathering, or through friends.  I have a few friends who met men while in Florida for the winter, and now spend a good deal of time golfing and taking cruises together. I met Peter (the man I am dating) at a social gathering at our synagogue. We were sitting at a table with a group of friends. That was a few years ago and now we are in the throes of "long-term" dating.
Several challenges and advantages arise once we get into a long-term dating relationship, and they are not the same faced by people in their 20s or 30s.
What do we call the person we are dating?
We can't use the term, "boyfriend." It may be a technically accurate description, but it doesn't feel right. It sounds as if we are in our 30s. As a matter of fact, when I still worked full time, the women in the office wanted me to use the term, "boyfriend." Of course, they were in their 30s. It didn't work for me, at 67. The man I am dating certainly wasn't a "boy." Actually, he is seven years older, and technically, "the older man."  I'd use the description "friend," and they would roll their eyes.
So, what socially acceptable term can we use instead when we refer to the man we are regularly seeing?
* "Partner?" - That usually refers to an unmarried couple, or people who play tennis together.
* "Companion?" - That sounds as if you are talking about your dog, or an employed medical aid who reminds you to take your pills.
* "Friend?" - Someone you play mahjong with.
* "Special friend?" – Ick.
* "Friend with benefits?" - No comment. This is a Hallmark blog.
You get my drift.  None of them sound good. You can't say to the hostess at the restaurant who is about to seat you, "My special friend is parking the car so please seat me as I need to get off of my feet." If you said, "husband," no one would blink an eye. If you said, "boyfriend," she'd probably blink twice, mask a smile, and call you "dear." Well, the term "dear" shows up anyway, but that's another blog.
Then there is your social life. By the time you are over 60, hopefully you have a life full of family, friends and social commitments, even if you are retired. Otherwise, your career obligations sit on that calendar plate, too. Hopefully your "boyfriend" has an equally full life. Otherwise, you might be concerned that there is something wrong with him. So, when you begin to date regularly, you balance your commitments, his commitments, and the new "our" commitments.  Life becomes more filled with laughter, warm smiles, hugs, new friendships, new places, double the doctor appointments, and craziness. Suddenly, you are both sending each other calendar requests through email messages to make sure your calendars are synchronized. That allows both of you to know what the other one is doing, in case you are supposed to be there, or so you know when you can plan something separate for yourself.
 On a positive note, the expanded social life brings new joys into your life. On a negative note, sometimes you want to have some more unscheduled quiet time.
Dating at our age can be truly romantic, as we are old enough to appreciate each day, and experienced enough to know where we went wrong when we were younger.  At 60-plus, dating can be the things we grew up believing were possible when we fell in love – the kind words and welcome surprises, like flowers, listening to one another, and being there when needed. And the children, well, hopefully they are supportive, and don't have to spend so much time worrying about mom.
---