I have always believed that perseverance is something to be admired and celebrated. Similarly – determination, energy, and enthusiasm are all excellent qualities. These are the characteristics we applaud in many adults, as evidenced by the vast number of memes out there now under the category #ShePersisted.
The #ShePersisted movement began when Sen. Elizabeth Warren was interrupted on the Senate floor as she was reading the words of Coretta Scott King. Later Senate Majority Leader Mitch McConnell remarked, "She was warned. She was given an explanation. Nevertheless, she persisted."
And the movement began.
Politics aside, determination and perseverance could be considered the founding principles of America.
Now, to get to my point – all of this is great and amazing, until you are attempting to raise a 4-year-old girl who fully embodies all of these characteristics!
Don't get me wrong. I celebrate my daughter's persevering attitude … for the most part. It's just she keeps on trying to persevere. Even when it's definitely time for bath and you've told her six times and it will soon be time for bed and she just will not stop playing to take that bath and you know it's going to be a late bedtime and then she will be even crankier (or even more determined) and then the whole evening is going to end in a shambles because she TRULY is TIRED!
Learning From Our Kids
All of the struggles of raising a "Spirited" child aside, I started thinking about what my daughter is teaching me … instead of just thinking about how I will possibly make her fit the mold of what she needs to be.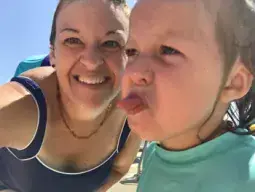 As difficult as times can be sometimes, that little girl has taught me many things:
Patience. I've always been told that patience is a virtue. However, I don't think I ever really thought about what that saying meant. I've also probably never been a very patient person – even prior to having kids. I am definitely more patient now than I've ever been … even though the inner me may be screaming at times!

Flexibility. I do think I have always had the ability to be a bit flexible. As a journalist, sometimes things don't pan out so you have to pivot. I'm good at that. I'm not always good at being flexible when it comes to the schedule. If you are a parent, you know how important the schedule and the routine are. However, sometimes it IS just fine if you skip a bath … or two. Or, if you have snack then bath instead. Sometimes keeping the peace is more important than following the schedule.

How to love, even when it's hard. One thing I have noticed with my daughter, specifically, is that she often struggles with herself. She is four and that may come with the territory, but I can sometimes see that internal struggle on her face. She wants to be good, but often it doesn't turn out the way she wants. And, all of this has taught me to better observe her face, to feel that internal struggle, and to LOVE more vigorously when that is happening, even though it is hard to do because tempers are high. It is worth it in those high-heat moments to love her fiercely – even more fiercely than usual – because those are the moments that can really harm a child. If she is struggling internally and you fuel that fire by being negative or accusatory, then her internal monologue may become one of negativity.
Raising a happy, healthy child is my top priority. I also aim to raise children who are determined, but also are empathetic to others.
Loving Jane and working through the many hurdles has certainly been hard at times, however I also feel it is possibly the most important thing I have ever done in my life.
So, take those moments to breathe when you need them. Think about what you are learning from those spirited children and while it may be difficult, know that you are hopefully raising a future leader and someone who will persevere even when the going gets tough.
Hey – it will likely be you they learn that perseverance from. Go forth dear mamas and papas – and persist!
---