2020 Tanger Pink Style Campaign Raises Funds for Beebe Healthcare's Oncology Services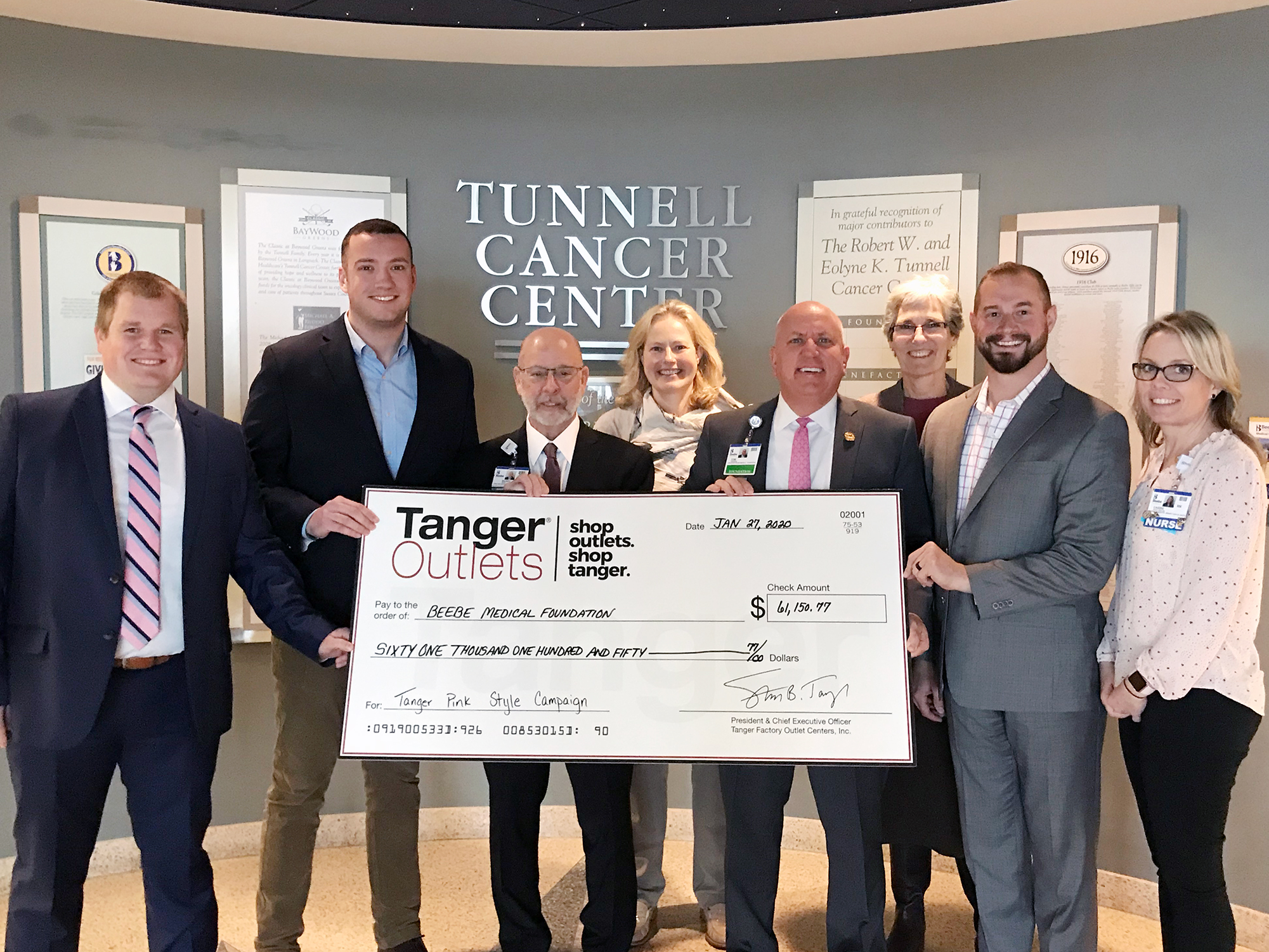 Tanger Outlets presented Beebe Medical Foundation with a check for $61,150.77, a portion of the proceeds from their 2019 Tanger Pink Style Campaign. The two organizations partnered together to sell over 10,000 Pink Cards during the fall campaign.
The Tanger Pink Style campaign ran from September 25 through October 31. The campaign offered Tanger shoppers unlimited use of Pink Savings Cards in two formats: a mobile card on shoppers' phones or a physical card. For $10, the Pink Savings Cards gave shoppers 25% off a single purchase at participating Tanger Outlet stores again and again throughout the campaign. Shoppers saved big on the best brand names and designer fashions while making a big, "pink" impact on the fight against breast cancer.
"We are proud to join forces with our valued shoppers and retailers to raise awareness and much-needed funds for breast cancer research and prevention," said Steven B. Tanger, President and Chief Executive Officer of Tanger Factory Outlet Centers, Inc. "We empathize with every customer, retailer, and employee who has been affected by this disease, and we are fully committed to supporting these important organizations, like Beebe Heathcare's Oncology Services, with the goal of finding a cure to a disease that has affected so many families."
Proceeds from the campaign were split between the Breast Cancer Research Foundation and Beebe Healthcare's Oncology Services. Tanger is committed to supporting the research that will one day lead to a cure for the disease that has impacted so many families.
"We are truly honored," said Amy Popovich, Event Coordinator, Beebe Medical Foundation, "to be chosen as the beneficiary of Tanger's 2019 Pink Style Campaign. Our team loved being a part of the campaign, selling cards, marketing the campaign, and raising funds to make a difference in the lives of so many. The funds raised will go a long way in helping in the fight against breast cancer right here in Sussex County."
"We are so grateful for this community partnership with our local Tanger Outlet stores. So many of those who shop and work at Tanger are patients of Beebe, have family members who work at Beebe, or simply are donors of Beebe. It was a fun and easy way for everyone to make a donation and make a difference. It is a perfect partnership that I look forward to strengthening in future years," said Tom Protack, President, Beebe Medical Foundation.
Beebe Healthcare is a not-for-profit community healthcare system with a charitable mission to encourage healthy living, prevent illness, and restore optimal health for the people who live in, work in, and visit the communities we serve. Beebe Healthcare has three campuses: the Margaret H. Rollins Lewes Campus, which houses the medical center; the Rehoboth Health Campus; and coming in 2020, the South Coastal Health Campus. Beebe Healthcare offers primary care as well as specialized services in the areas of cardiac and vascular, general surgery, robotic surgery, cancer treatment, women's health, and orthopaedics. Beebe also offers walk-in care, lab, imaging and physical rehabilitation services at several locations throughout Sussex County, in addition to a Home Care program and an adult activities center.
About Tanger Factory Outlet Centers: Tanger Factory Outlet Centers, Inc. (NYSE: SKT), is a publicly-traded REIT headquartered in Greensboro, North Carolina, that presently operates and owns, or has an ownership interest in, a portfolio of 39 upscale outlet shopping centers. Tanger's operating properties are located in 20 states and in Canada, totaling approximately 14.3 million square feet, leased to over 2,800 stores which are operated by more than 510 different brand name companies. The Company has more than 39 years of experience in the outlet industry. Tanger Outlet Centers continue to attract more than 181 million visitors annually. For more information on Tanger Outlet Centers, call 1-800-4TANGER or visit the Company's website at
www.tangeroutlets.com
.
Photo (l-r): Justen Albright, Financial Analyst, Beebe Medical Foundation; Oliver Runco, Associate Assistant General Manager, Tanger Outlets; Barry Hamp, Executive Director, Beebe Healthcare Tunnell Cancer Center; Kay Young, Executive Director of Development, Beebe Medical Foundation; Tom Protack, President, Beebe Medical Foundation; Diane Barlow, Major Gift Office, Beebe Medical Foundation; Joey Venezia, Assistant General Manager, Tanger Outlets; and Cassie Reed, Nurse Navigator for Breast Health, Beebe Healthcare, pose for a photo at Beebe Healthcare's Tunnell Cancer Center.
---