$3 Million Ma-Ran Foundation Gift to Name R. Randall Rollins Center for Medical Education at Beebe Healthcare
Image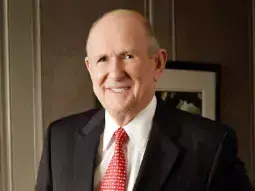 The Beebe Medical Foundation is honored to announce a $3 million gift from the Ma-Ran Foundation to establish the R. Randall Rollins Center for Medical Education.
The donation will help fund Beebe's Graduate Medical Education program and renovate the historic building that will host third-year medical students in July 2022 and the first class of family medicine residents in July 2023.
"With this wonderful gift, the Rollins family continues their strong and loyal commitment to Beebe Healthcare and our education programs," said Tom Protack, President, Beebe Medical Foundation. "Having both our Margaret H. Rollins School of Nursing and our Medical Education Center named after both Mr. and Mrs. Rollins is a perfect marriage here on our historic Lewes campus.
"I am also happy to announce that the R. Randall Rollins Center for Medical Education will be housed in our first hospital, the historic Shaw building, which will be renovated to meet the needs of this new center and its many programs. To have our physician residents and medical students walking the same floors as our co-founders Drs. James and Richard Beebe is appropriate and fitting."
Tanya Ray, Administrative Director of Graduate Medical Education, said the programs that will function under the R. Randall Rollins Center for Medical Education cover the full trajectory of medical education and include lifelong learning for Beebe's robust and growing medical staff.
"Our rotating medical students will gain the hands-on clinical experiences needed to fulfill their educational requirements for completing medical school," she said. "Our Family Medicine residents will gain the hands-on clinical experience necessary to provide full breadth family medicine to the communities we serve. Our post-graduate medical education program will also ensure our providers are staying abreast of current guidelines, and new innovations in medicine. These combined programs will transition Beebe Healthcare to a teaching institution and help to continue the mission of the Beebe brothers, and Beebe Healthcare's commitment to Sussex County."
Jeffrey Hawtof, MD, FAAFP, Director of Provider IT and Medical Education, added his sincere appreciation, "The Rollins family and their commitment to education in our community, allows for us to improve primary care in Sussex County. It is through their generosity that we can cultivate competent, culturally diverse and compassionate learners."
This excitement and gratitude are shared by Joyce Robert, MD, FAAFP, Inaugural Program Director, Beebe Family Medicine Residency. Dr. Robert joined Beebe in August 2021 to be a leader of the residency program while seeing patients at Beebe Family Practice Long Neck.
"Beebe is blessed to have the continuous support from the Rollins family," Dr. Robert said. "First with the Margaret H. Rollins School of Nursing and now with the R. Randall Rollins Center for Medical Education. Beebe is super excited to open our doors to our medical students and future family medicine residents. The Rollins family's great heart and generosity will give Beebe an edge to address healthcare disparities, improve medical education, and bring more physicians to Sussex County. I am honored to be part of this process and looking forward to the future of medicine. Beebe is where to be."
Drs. Hawtof, Robert and Ms. Ray, along with Michael Kalil, DO, Medical Director of Undergraduate Medical Education, makeup the core leadership of the program to prepare future doctors.
"Sussex County is growing, and Beebe is committed to match that growth to ensure there is access to the safe, quality, and innovative healthcare that this county deserves, said David A. Tam, MD, MBA, CPHE, FACHE, President & CEO, Beebe Healthcare. "As a Physician CEO, I'm thrilled to know that every year, our award-winning Margaret H. Rollins School of Nursing and now, our R. Randall Rollins Center for Medical Education will produce healthcare professionals ready to serve our community.
"We understand and are focused on the needs of our community because Sussex County is Our Specialty. The Rollins family has always understood that, and I am grateful to their commitment to provide the best medical education that will serve Lewes and the entire county for many years to come. R. Randall Rollins was a great leader who believed in helping others grow in their profession and successes, and now, we will be able to do that in an even greater way at Beebe Healthcare."
---