Beebe Healthcare Announces New Hyperbaric Oxygen Therapy in Rehoboth Beach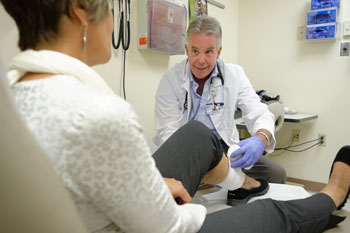 Beebe Healthcare has added hyperbaric oxygen therapy to its comprehensive wound care program, which will take on a new name – Wound Healing and Hyperbaric Medicine. The program will open March 7, 2016, at a new location in the Medical Arts Building at the Beebe Health Campus near Rehoboth Beach (Route 24).
Hyperbaric oxygen therapy has been proven to increase oxygen concentration in the body, which helps fight bacteria, improve healing rates, and avoid loss of limbs in patients with diabetes, vascular disorders, or who have sustained serious trauma. It can effectively treat certain serious infections of soft tissue and bones, tissue and bone injured by radiation therapy and selected problem wounds such as diabetic foot ulcers and compromised tissue grafts or flaps.
Beebe will be installing the BARA-MED "Select" hyperbaric chamber, which provides the most advanced and effective treatment available.
Manufactured by Environmental Tectonics Corporation, the BARA-MED "Select" is designed to protect patients from inner ear squeeze, a major discomfort that competing hyperbaric chambers fail to address.
The chamber is spacious, temperature-controlled, and runs quietly, reducing patient anxiety. It is equipped with an entertainment system, enabling patients to watch videos during treatment. The Beebe Auxiliary helped fund the purchase of two chambers.
Robert A. Portz, MD, a board certified physician and member of Sussex Emergency Associates, is the Medical Director of the new program.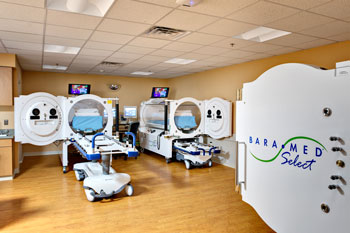 A Healing Process
Since 1998, Beebe Healthcare's Wound Care program has provided state-of-the-art wound care for the community, offering interdisciplinary and comprehensive treatment. Hyperbaric oxygen therapy will add to this program and the new location will allow Beebe to continue to provide the best possible care for patients and their loved ones.
Beebe's outcomes-driven program focuses on healing wound(s) quickly. The healing rate is consistently greater than 96 percent, exceeding the national average. Many of these wounds went untreated for weeks or months before receiving specialized wound care.
Planning Your Care
Beebe's wound care staff has extensive training and expertise in wound healing and provides a comprehensive plan of care that is customized to your needs. The types of wounds that can benefit from our treatments include:
• Non-healing surgical wounds
• Wounds caused by poor circulation
• Diabetic foot ulcers
• Traumatic wounds
• Venous Stasis Ulcers
• Pressure Ulcers
• Minor burns
Additional services include care and education of individuals who will undergo or have had ostomy surgery.
Talk to your Doctor
If you have a wound that hasn't healed for a month or more, talk to your doctor about Beebe's Wound Healing & Hyperbaric Medicine to see if the program would benefit you.
Physicians may fax a signed physician order, including specific wound or ostomy details and recent medical history to (302) 645-3428, and direct patients to call the program at (302) 645-3121 to set up an appointment.
Beebe Healthcare is a not-for-profit community healthcare system with a charitable mission to encourage healthy living, prevent illness, and restore optimal health for the people residing, working, or visiting in the communities we serve. It offers services throughout Southern Delaware for residents and visitors, including a 210-licensed-bed hospital, a cancer center, and outpatient facilities providing walk-in care, lab, imaging, and physical rehabilitation services. For more information, please visit us online at Beebe Healthcare.
Top photo: Beebe Healthcare's Wound Healing & Hyperbaric Medicine team is excited about the new state-of-the-art location and the addition of hyperbaric oxygen therapy, which will help many patients heal more quickly. Shown is Robert A. Portz, MD, the Medical Director of the new program.
Second photo: Hyperbaric oxygen therapy chambers, designed by Bara-Med, are being installed in the new location in the Medical Arts Building at the Beebe Health Campus on Route 24. These chambers feature an open feeling as well as entertainment options for those having treatments.
---