Beebe Healthcare Celebrates 15 Years Offering Specialized Dialysis Therapy Close to Home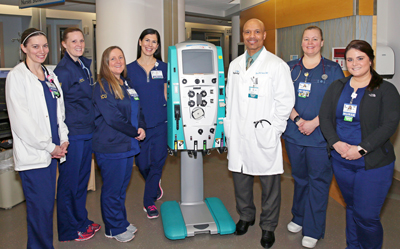 This month, Beebe Healthcare celebrates its 15th year offering continuous renal replacement therapy, or CRRT. The program was developed by Jose Saez, DO, a nephrologist on Beebe's medical staff.
CRRT is a form of dialysis used for critically ill patients who are unable to tolerate regular dialysis. Rather than taking place over a four-hour period, as a standard hemodialysis procedure does, CRRT is delivered at a slow, continuous rate, 24 hours per day. CRRT is typically used as a temporary measure until patients are well enough to withstand regular dialysis, or until they no longer need dialysis.
CRRT is delivered at the bedside by intensive care unit (ICU) staff, who set up the equipment at the patient's bedside. Dialysis staff are available to answer any questions that may arise and provide assistance as needed.
Prior to CRRT being offered at Beebe, patients had to be transferred to a hospital outside of Sussex County if they needed this therapy.
"There are so many patients who've received this therapy who have made a full recovery," said Dr. Saez. "It's really been a benefit to Beebe and to the community, as it supports other programs within the hospital and allows patients to remain closer to home to receive the treatment they need."
Beebe Healthcare is a not-for-profit community healthcare system with a charitable mission to encourage healthy living, prevent illness, and restore optimal health for the people who live in, work in, and visit the communities we serve. Beebe Healthcare has three campuses: the Margaret H. Rollins Lewes Campus, which houses the medical center; the Rehoboth Beach Health Campus; and coming in 2020, the South Coastal Health Campus. Beebe Healthcare offers primary care as well as specialized services in the areas of cardiac and vascular, general surgery, robotic surgery, cancer treatment, women's health, and orthopaedics. Beebe also offers walk-in care, lab, imaging and physical rehabilitation services at several locations throughout Sussex County, in addition to a Home Care program and an adult activities center. For more information about Beebe Healthcare, go to www.beebehealthcare.org. To find out how Beebe Healthcare is Creating the Next Generation of Care for the community, go to www.nextgenerationofcare.org.
Caption: Dr. Jose Saez, DO, nephrologist, and the Intensive Care Unit (ICU) team use continuous renal replacement therapy, or CRRT, for critically ill patients who are unable to tolerate regular dialysis. Left to right: Noelle Bolingbroke, RN; Jill Petrone, RN; April Ahlers, ICU Nurse Manager; Vicky Yurisic, RN; Dr. Jose Saez; Dawn Wheway, RN; and Bethany Campbell, RN.
---