Beebe Healthcare Donates Gym Equipment for New Lewes Senior Center Fitness Room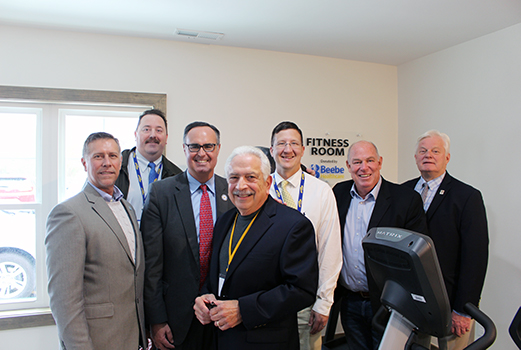 Beebe Healthcare team members attended the ribbon cutting of the new Lewes Senior Activity Center on Wednesday, November 20, to celebrate the facility and the gym that was designed and donated by the Physical Rehabilitation team.
"One of the missions that we have as a center is to promote health, wellness, and people 50 and over staying active," said Andy Zamini, Board President, Lewes Senior Activity Center. "Beebe's contribution feeds right into that mission. I've come in here multiple times, and there are members on these machines and they love it. They are thrilled about the quality of the equipment and what they need at their age."
The new fitness center consists of three treadmills, three bicycles, an elliptical, along with a bench and free weights. One of the treadmills was also donated by the Lewes Rotary Club.
"Beebe Healthcare was honored to assist in the design of the fitness center and provide equipment for the members to enjoy at the Lewes Senior Activity Center," said Joe Skocypec, Director of Physical Rehabilitation Services. "It is part of our mission to make Sussex County one of the healthiest counties in the nation, and we hope the members take advantage of this equipment to receive the many benefits of physical activity and exercise."
Beebe Healthcare is a not-for-profit community healthcare system with a charitable mission to encourage healthy living, prevent illness, and restore optimal health for the people who live in, work in, and visit the communities we serve. Beebe Healthcare has three campuses: the Margaret H. Rollins Lewes Campus, which houses the medical center; the Rehoboth Beach Health Campus; and coming in 2020, the South Coastal Health Campus. Beebe Healthcare offers primary care as well as specialized services in the areas of cardiac and vascular, general surgery, robotic surgery, cancer treatment, women's health, and orthopaedics. Beebe also offers walk-in care, lab, imaging and physical rehabilitation services at several locations throughout Sussex County, in addition to a Home Care program and an adult activities center.
For more information about Beebe Healthcare, go to www.beebehealthcare.org. To find out how Beebe Healthcare is Creating the Next Generation of Care for the community, go to www.nextgenerationofcare.org.
From left to right, Rep. Steve Smyk, Tim Phelps, Manager, Physical Rehabilitation Services, Sen. Ernie Lopez, Andy Zamini, Board President, Joe Skocypec, Director of Physical Rehabilitation Services, Rep. Pete Schwartzkopf, and Lewes Mayor Ted Becker, pose for a photo at the Lewes Senior Activity Center's new fitness room, which was donated by Beebe.
---