Beebe Healthcare presents two scholarships to Cape High School students who won the 100th anniversary essay contest
Cape Henlopen High School junior Hanna O'Reilly says it is important to impact the lives of others in a positive way and to give back to your community.
With a goal of becoming an occupational therapist, Hanna already volunteers her time to helping autistic children.
Hanna recently told her story in an essay that brought her $1,000 as the winner of Beebe Healthcare's 100th anniversary essay contest for local high school students.
A delegation of Beebe representatives visited Cape Henlopen High School and officially presented the scholarship to Hanna. Her classmate, Dylan Duran, was presented with a $500, second-place scholarship for his essay in which he recalled his own health experience at the Medical Center and his goal to make the community a better place for all.
"We at Beebe very much wish to support the young people of our community," said Dan Mapes, MPA, RT(N), CRA, Director of Diagnostic Imaging at Beebe and the person who coordinated the essay contest. "We occasionally invite the students to tour the Medical Center with the goal of teaching them about the many career opportunities they could chose in their futures in the healthcare field."
Dan has coordinated two student visits with the help of Cape Henlopen High School teachers.
"Our students truly enjoyed the opportunity to tour the various departments and learn from the medical professionals at Beebe Hospital," said Cape Henlopen High School math teacher James McDowell. "The staff at Beebe was friendly and knowledgeable, and our students returned excited to learn more about possible careers in the medical field. They cannot wait for the next opportunity to tour Beebe in the spring."
Linda Sapienza, HealthCare Pathway teacher, said that "Our students from the medical assistant program were so inspired by the passion felt with each departmental presentation. Creating an experiential opportunity like this left an imprint on each potential future healthcare team member."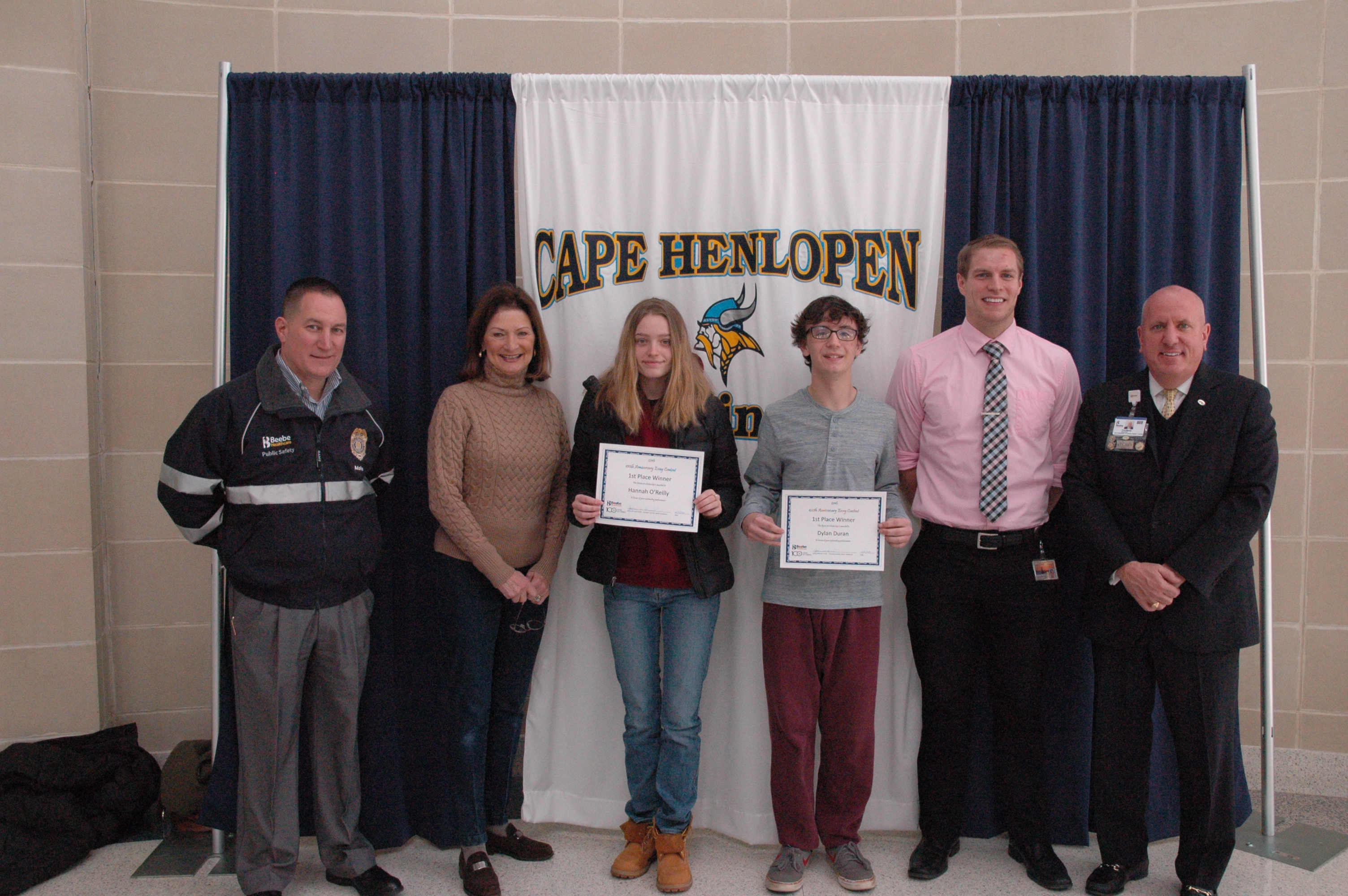 Caption: Beebe Healthcare awarded two scholarships to Cape Henlopen High School students as part of Beebe Healthcare's 100th anniversary celebrations. Pictured here at the presentation are, left to right: Frank Molino, Security manager at Beebe; Christine Moore, member of the Beebe Medical Foundation Board of Directors; high school junior and first-place winner Hanna O'Reilly; high school junior and second-place winner Dylan Duran; James L. McDowell, Ed.D. Mathematics/AVID teacher at Cape Henlopen High School; and Tom Protack, Vice President of Development at Beebe Medical Foundation.
Beebe Healthcare is a not-for-profit community healthcare system with a charitable mission to encourage healthy living, prevent illness, and restore optimal health for the people residing, working, or visiting in the communities we serve. It offers services throughout Southern Delaware for residents and visitors, including a 210-licensed-bed hospital, a cancer treatment center, and outpatient facilities providing walk-in care, lab, imaging, and physical rehabilitation services. For more information, please visit us online at Beebe Healthcare.
---