Beebe Healthcare Receives $285,000 Gift from its Auxiliary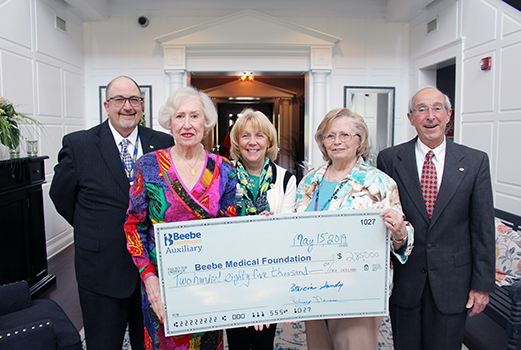 In just three years, the Beebe Auxiliary has raised more than $1 million for Beebe Healthcare.
Last year's record-setting gift of $315,000 was followed by another $285,000 on Wednesday, May 15. The donation brings the Auxiliary even closer to its goal of raising $1.8 million over six years.
More than 200 Auxiliary members donated more than 21,000 hours in various efforts, said Lesley Nance, President, during the annual luncheon at Baywood Greens Country Club to celebrate the Auxiliary's 83rd year.
"We are here today to say thank you to all of our members' dedication this past year," Nance said. "No matter where you turn on a Beebe campus, it's likely you will run into an Auxiliary member who is hard at work."
The Auxiliary runs a craft group, a thrift shop beside the go-kart track at Midway, the gift shop at the Margaret H. Rollins Lewes Campus, and spearheads many other fundraising efforts.
"One of my great honors is when I got my honorary member pin," said Rick Schaffner, RN, Interim CEO, Executive Vice President & COO of Beebe Healthcare. "The support you have given the healthcare system is fantastic and it powers us forward."
Over the years, Beebe Auxiliary has raised funds for the Margaret H. Rollins School of Nursing, the Chapel at the medical center, the Georgetown Health Campus, two hyperbaric chambers at Beebe Wound Healing, special wheel-chairs for patients visiting the medical center and Tunnell Cancer Center, new navigational bronchoscopy equipment, and more.
Judy Aliquo, CFRE, President and CEO of Beebe Medical Foundation, told the luncheon crowd that by her calculations, the Auxiliary has donated $5.7 million to Beebe since the 1980s.
"The work that the Auxiliary does is tremendous for our community," Ms. Aliquo said. "We are great partners in many volunteer efforts, and their continued support of the I Believe in Beebe Campaign really makes a difference in Creating the Next Generation of Care for Sussex County."
Beebe Board of Directors Chair David Herbert also attended the luncheon to thank the Auxiliary for their work the last 83 years.
"I can't tell you how grateful the Board of Directors are for everything you do," Mr. Herbert said. "I'm here today to give our heartfelt thanks for helping making our healthcare system the best in Sussex County."
The Auxiliary also honored three individuals for their service in the past year. Doreen Ives from the Beebe Print Room, Auxiliary member Sara Spencer who is moving away from the area, and Mike Clemmer, who was a former President of the Beebe Medical Foundation, manager of the Beebe Gift Shop for 10 years and a past Auxiliary president.
The Beebe Auxiliary was founded in 1936 with the sole purpose to promote and advance the welfare of Beebe and its patients. Membership is open to both men and women. General membership meetings are held at the Lewes Campus the first Friday of October, November, February, and March. The annual membership meeting is held in May at a local restaurant. There are two membership levels: Active members may volunteer in a way that meets their personal abilities and time restraints. Inactive members support the Auxiliary as ambassadors of goodwill. Annual dues: $10 for both active and inactive members.
Beebe Healthcare is a not-for-profit community healthcare system with a charitable mission to encourage healthy living, prevent illness, and restore optimal health for the people who live in, work in, and visit the communities we serve. Beebe Healthcare has three campuses: the Margaret H. Rollins Lewes Campus, which houses the medical center; the Rehoboth Beach Health Campus; and coming in 2020, the South Coastal Health Campus. Beebe Healthcare offers primary care as well as specialized services in the areas of cardiac and vascular, general surgery, robotic surgery, cancer treatment, women's health, and orthopaedics. Beebe also offers walk-in care, lab, imaging and physical rehabilitation services at several locations throughout Sussex County, in addition to a Home Care program and an adult activities center.
For more information about Beebe Healthcare, go to www.beebehealthcare.org. To find out how Beebe Healthcare is Creating the Next Generation of Care for the community, go to www.nextgenerationofcare.org.
Caption: Rick Schaffner, RN, Interim CEO, Executive Vice President & COO of Beebe Healthcare, Auxiliary Treasurer Patricia Sandy, Judy Aliquo, CFRE, President and CEO of Beebe Medical Foundation, Lesley Nance, Auxiliary President, and Dave Herbert, Beebe Board of Directors Chair.
---