Beebe Healthcare Welcomes Ryan Arias, DO, to its Residency Program as Core Faculty
Image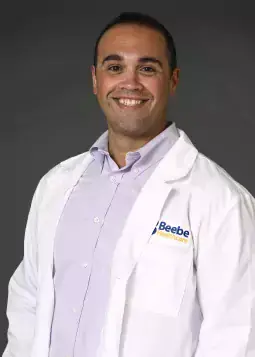 Ryan Arias, DO, is joining the faculty of the R. Randall Rollins Center for Medical Education. He will be a core faculty member of the Family Medicine Residency program and will also see patients at Long Neck Primary Care.
Dr. Arias will care for patients of all ages, including newborns starting in late August. He will also see inpatients at the Margaret H. Rollins Lewes Campus in the newborn nursery as well as adults. Call 302-645-3332 for a primary care appointment. Dr. Arias speaks both English and Spanish.
"I'm thrilled to welcome Dr. Arias to our core faculty of Beebe's Family Medicine Residency Program," said Joyce Robert, MD, FAAFP, Program Director of Family Medicine Residency at Beebe Healthcare. "In his role, he will contribute to the program's development and curriculum. His expertise and qualifications will help train and instruct Beebe's residents, as well as seeing patients in Sussex County."
Dr. Arias received his medical degree from the Campbell University Jerry M. Wallace School of Osteopathic Medicine in North Carolina and completed his training at Harnett Health's Family Medicine Residency in North Carolina, where he became chief resident of the program.
He has served as a Teaching Assistant of Osteopathic Manipulative Medicine and an Adjunct Professor of Family Medicine at his alma mater. His other special areas of interest includes treatment of the "athlete," Osteopathic Manipulative Medicine, and simulation medicine, which aids the training of clinical teams.
"I chose academic medicine because I have always loved to teach," Dr. Arias said. "It has been a passion of mine since my undergraduate years, and during the course of my residency, I knew teaching medicine was something that I needed to be a part of my career moving forward. I can't wait to educate more physicians that could call Sussex County their home."
After years of preparation, the R. Randall Rollins Center for Medical Education's Family Residency Program will welcome four family medicine residents in July 2023. Residents are physicians who have graduated from medical school and are completing their training in a specific field. The residents will see patients under the guidance of faculty, which will open up additional access to primary care appointments in Sussex County.
---