Beebe to Host Facebook Live Virtual Town Hall on Feb. 3 for a COVID-19 and Vaccination Update 
Image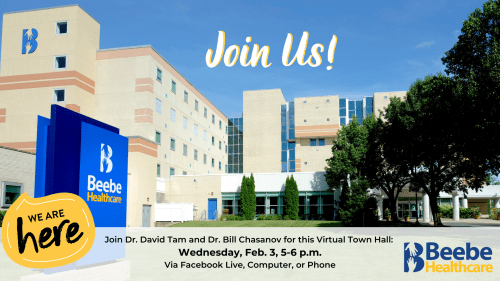 Beebe Healthcare is inviting the public to a COVID-19 Town Hall on Wednesday, February 3, from 5-6 p.m.
David A. Tam, MD, MBA, FACHE, President & CEO, and Bill Chasanov, DO, Beebe's COVID-19 Response Medical Director, will share updates about the latest in cases, hospitalizations, and information about the COVID-19 vaccine.
To watch, simply log into Facebook and come to Beebe Healthcare's Facebook page to look for the live video.
For closed captioning during the event on Facebook: Caption View Link: https://www.streamtext.net/player?event=Beebe_COVID_Vaccine_Captioning
The captions run simultaneously and will open in a new window.
Learn the latest on the COVID-19 Vaccine here.
If you do not have access to Facebook, you may also watch or listen to the presentation in these additional ways:
 
Laptop or desktop
https://primetime.bluejeans.com/a2m/live-event/fsbdessf 
 
Or by following these instructions on a mobile device:
a) Open this link : https://primetime.bluejeans.com/a2m/live-event/fsbdessf  
b) Download the app if you don't have it already. 
c) Enter event ID : fsbdessf
 
You can also join by phone by calling one of these numbers:
 
415-466-7000 
PIN 2545377#
 
760-699-0393
PIN 5788358991#
 
Live ASL interpretation and live captioning will be available.
 
---