Beebe Medical Foundation Announces the Dr. Mansour Saberi School of Nursing Endowment Fund
The Beebe Medical Foundation is proud to announce the formation of the "Dr. Mansour Saberi School of Nursing Scholarship," honoring the late Dr. Mansour Saberi, a widely respected doctor, educator, friend, and family man. Established by his loving family through memorial donations and their support, the newly created endowment continues Dr. Saberi's legacy of dedication to the community by helping students in need at Beebe Healthcare's Margaret H. Rollins School of Nursing.
This endowment is inspired by Dr. Saberi, as his wife Shirin reflects, "Mansour was always giving; it was a central theme of his life. He was a very unique, caring person, who highly valued education and had a strong enthusiasm for learning and the larger community. Even while sick at the hospital, he was still teaching and inspiring others. Although his specialty was endocrinology, he was interested in all aspects of medicine; his general knowledge was so vast I often referred to him as 'my walking google.' With his belief in education and in celebration of his career at Beebe, we are so honored to designate memorial donations to Beebe and humbled with the generous response. Thank you!"
Mansour Saberi, MD of Lewes, Delaware passed away peacefully on April 9, 2017, surrounded by his family. He was born in Iran and graduated from Tehran University School of Medicine in 1966. Dr. Saberi immigrated to the United States to continue his training in medicine at an internship he held in New York and then served a fellowship in endocrinology, metabolism and diabetes at the Hospital of the University of Pennsylvania where he also held the position of Instructor of Endocrinology.
In 1973 Mansour married Shirin Davanloo. They have two children, Kaveh and Sadaf (Dylan) and three grandchildren, Ella, Emily and Cameron, along with his siblings and extended family in Iran.
Dr. Saberi was a well-known pillar of the community, loved by everyone he met and remembered for his kindness, generosity, and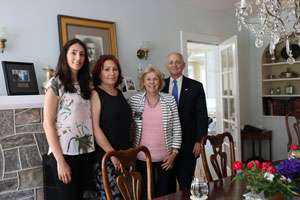 selfless nature, placing the needs of others before his own. Dr. Saberi and Shirin moved to Lewes in May 1976 where he established his practice, and it became home ever since. Dr. Saberi was a pioneer in his field and carried roles as Assistant Professor of Medicine at Temple University, Instructor of Medicine at University of Delaware, a member of the Department of Medicine at Christiana Medical Center, and from 1976 - 1982 as Chair of the Department of Medicine at Beebe Medical Center, where he served the community for over forty years. Dr. Saberi was also Medical Director of the Diabetes and Wound Care Center and established the Center of Osteoporosis, Metabolic and Bone Disorders.
Dr. Saberi's proudest and greatest achievement was his nomination and selection by his peers as Master of American College of Physicians (ACP), the highest achievement of the College. The selection is based on "integrity, positions of honor, eminence in practice or in medical research, or other attainments in science or in the art of medicine." (quoting ACP Bylaws). Throughout his career, Dr. Saberi received many awards and honors including the American College of Physicians Laureate Award in 2007 for initiating a fellowship program to send medical residents to underdeveloped countries, after having become the Governor of the ACP for Delaware in 2004. Dr. Saberi has sponsored several Iranian physicians for fellowships and established an international committee for the Chapter to recruit physicians from around the world. He has served on the ACP's National Volunteerism Committee and established a Wound Care and Diabetic Center in Iran. Dr. Saberi devoted his life to serving others through healing, education and charity.
"What a wonderful tribute to Dr. Saberi!" said Judy Aliquo, CFRE, President and CEO of Beebe Medical Foundation. "Dr. Saberi's patients, family and friends so generously donated to Beebe in his memory. His legacy will live on at Beebe through this named scholarship and will provide the gift of education with the nursing students at the Margaret H. Rollins School of Nursing."
Donations are still being accepted. To learn more, visit the Mansour Saberi School of Nursing Memorial Scholarship at: Dr. Saberi Memorial & Scholarship. The fund currently holds $25,180.
Photo Caption: (Shown left to right) Sadaf Saberi; Shirin Saberi; Judy Aliquo, CFRE, President and CEO, Beebe Medical Foundation; and Jeff Fried, FACHE, President and CEO, Beebe Healthcare. (Not pictured: Kaveh Saberi)
Beebe Medical Foundation was established in 1989 with the sole mission to raise philanthropic support for Beebe Healthcare. The Foundation is located at 902 Savannah Road, Lewes, DE 19958. To learn more about how you can give, please contact the Beebe Medical Foundation at (302) 644-2900 or visit us online at Beebe Medical Foundation.
Beebe Healthcare is a not-for-profit community healthcare system with a charitable mission to encourage healthy living, prevent illness, and restore optimal health for the people residing, working, or visiting in the communities we serve. It offers services throughout Southern Delaware for residents and visitors, including a 210-licensed-bed hospital, a cancer treatment center, home care services, and outpatient facilities providing walk-in care, lab, imaging, and physical rehabilitation services. For more information, please visit us online at Beebe Healthcare.
---