Beebe Medical Foundation Celebrates Interventional Cardiologists, Healthgrades Award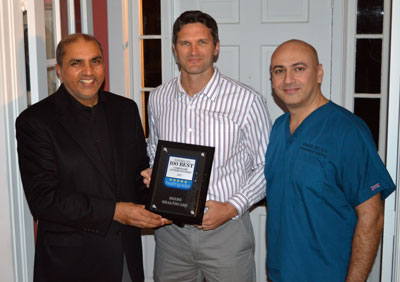 Beebe Medical Foundation hosted a Celebration of Beebe's Interventional Cardiology Team on Monday, February 20. Beebe is the only hospital on Delmarva recognized by Healthgrades as America's 100 Best Hospitals for Coronary Intervention Procedures in 2017. The recognition places Beebe among the Top 5 percent of hospitals in the nation for coronary intervention procedures. These procedures include the life-saving balloon angioplasties with stent insertions that open coronary arteries blocked during a heart attack.
The celebration was a chance to recognize Beebe's interventional cardiologists Mouhanad Freih, MD; Robert Myers, MD; and Ehtasham Qureshi, MD. During the celebration, each cardiologist group was presented with a plaque recognizing them for the Healthgrades distinction.
Each of the doctors, their office staff, and the hospital support team, received congratulations from Mr. Jeffrey M. Fried, President & CEO, Beebe Healthcare; The Honorable William Swain Lee, Chairman of the Beebe Board of Directors; Judy Aliquo, President & CEO, Beebe Medical Foundation; and Tom Protack, Vice President of Development, Beebe Medical Foundation.
"Our cardiologists are always quick to point out that what they are able to do, in serving our community, is only possible because we have such a wonderful team of nurses, clinicians, and other staff who support their efforts to provide the best possible care for their patients. It is an honor to have such a dedicated team of cardiac professionals in place at Beebe, and all of our team members across our organization take great pride in the cardiac programs our doctors and clinicians have developed over the years," said Mr. Fried. "The litmus test for all of them is would we or our family members feel comfortable in coming to Beebe for their care. Being ranked among the Top 100 hospitals across the country for cardiac interventional care certainly demonstrates that point. Thank you for all you do to care for our community."
Sarah Gilmour, a patient of Dr. Ehtasham Qureshi's, gave a testimonial of her excellent care received at Beebe.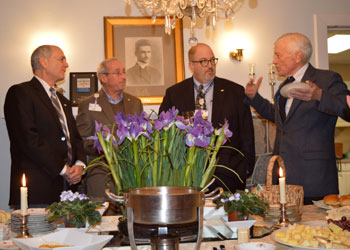 "The cardiac team was there with me each step of the way, providing information and support about the next step. I ended up needing a stent and I felt so safe with Dr. Qureshi and the team. I knew they would take care of me," Gilmour said.
Visit Beebe's Cardiac & Vascular Services page for more information.
Beebe Healthcare is a not-for-profit community healthcare system with a charitable mission to encourage healthy living, prevent illness, and restore optimal health for the people residing, working, or visiting in the communities we serve. It offers services throughout Southern Delaware for residents and visitors, including a 210-licensed-bed hospital, a cancer treatment center, and outpatient facilities providing walk-in care, lab, imaging, and physical rehabilitation services. 
Captions:
Top: Accepting the awards on behalf of their teams (left to right) are Dr. Ehtasham Qureshi, Dr. Robert Myers, and Dr. Mouhanad Freih, all interventional cardiologists at Beebe Healthcare.
Above: Bill Lee group: The reception brought together cardiac teams and leaders of Beebe Healthcare and Beebe Medical Foundation, including (left to right) Mr. Jeffrey Fried, President & CEO, Beebe Healthcare; Mr. David A. Herbert, Vice Chair, Beebe Board of Directors; Mr. Richard A. Schaffner, Jr., RN, Executive Vice President/Chief Operating Officer, Beebe Healthcare; and The Honorable William Swain Lee, Chairman, Beebe Board of Directors.
---