Beebe Medical Group Welcomes Two New Clinical Providers to Women's Health Services Team
Image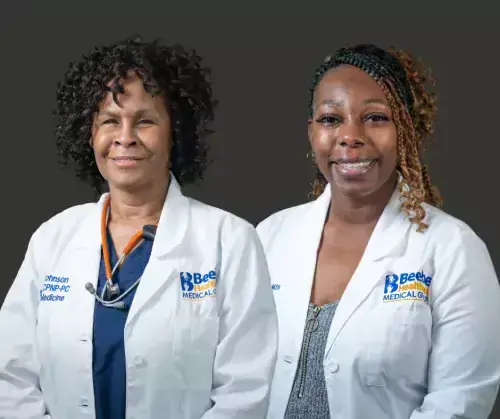 Beebe Healthcare is pleased to announce the appointments of two new providers to its Women's Health Services team. Both are committed to optimizing and personalizing patient care for women and children in Sussex County.
Benay Johnson, DNP, NNP-BC, CPNP-PC, is a neonatal nurse practitioner who provides emergent care to newborn babies in need of specialized medical attention immediately following birth at the Margaret H. Rollins Lewes Campus. She serves as a critically important liaison for Beebe's clinical providers on both the women's health and pediatrics services teams.
Johnson earned a Doctor of Nursing Practice and a Master of Science in Nursing from Seton Hall University College of Nursing in South Orange, New Jersey. Additionally, she attended the Columbia University School of Nursing in New York, where she earned a University Statutory Certificate as a neonatal nurse practitioner. Johnson also graduated with a Bachelor of Nursing from California State University. Committed to the continued optimization of clinical care services for patients and their families, she has devoted significant time to clinical research over the years. Most notably, Johnson has presented at numerous professional conferences and her work has been published in the Journal of Pediatric Health.
Most recently, Johnson worked as a pediatric nurse practitioner in the Well-Baby Nursery (WBN) at Mount Sinai Hospital in New York. Prior to that role, she worked as a neonatal nurse practitioner at BronxCare Health System in the Level III Neonatal Intensive Care Unit. Earlier in her career, in addition to her clinical work in several hospitals on the east coast, Johnson dedicated time to teaching and research. She is an adjunct faculty member in the department of clinical pediatrics at her alma mater, Seton Hall College of Nursing. She also worked as a clinical research nurse and faculty member in the department of pediatrics at Morgan Stanley Children's Hospital of New York Presbyterian and the Columbia University College of Physicians & Surgeons.
"When my husband and I recently relocated to Sussex County from New Jersey, my initial thought was to keep my former position and return to Delaware on my days off," said Johnson. "Then I learned about Beebe Healthcare and the more I learned, the more I became excited to be part of the neonatal nurse practitioner group at this hospital. There are a lot of great things happening at Beebe and I am excited to be part of it as I take this important next step in my career as a Doctorate-prepared nurse practitioner."
Shauntey Singletary, WHNP-BC, APRN, MSN, is a nurse practitioner who is part Beebe Medical Group. She sees patients at Beebe Women's Health Rehoboth, specializing in well-woman care, reproductive health, gynecological care, and prenatal and postpartum care.
Singletary earned a master's degree in nursing from Frontier Nursing University and a bachelor's degree in nursing from Wilmington University. She also graduated from Beebe Healthcare's two-year Nursing Program at the Margaret H. Rollins School of Nursing. She is certified as a Neonatal Resuscitation Program Provider and a S.T.A.B.L.E Program Provider, which qualifies her to provide post-resuscitation and pre-transport stabilization care for newborn babies required specialized and urgent critical care. Locally, Singletary is active with the Delaware Nurses Association and the Delaware Coalition of Nurse Practitioners.
Following her graduation from the Margaret H. Rollins School of Nursing, Singletary joined Beebe's Labor and Delivery team as a graduate nurse in the residency program. Over time, she went on to pursue clinical opportunities as a registered nurse at TidalHealth Peninsula Regional Medical Center, EPIC Health Services, and Caroline Nursing and Rehabilitation Center. Most recently, Singletary served as a travel nurse specializing in labor and delivery care for General Health Resources out of Buffalo, New York.
"Health education and disease prevention are also key priorities in my day-to-day work," said Singletary. "I am committed to providing patient-centered and personalized care for women of all ages, and at all stages of life. I am excited to continue my career with Beebe as I venture into a new role as a nurse practitioner. This hospital will always hold a special place in my heart, as it was where I began my career and was truly my nursing foundation."
Benay and Singletary are employed by Beebe Medical Group, which includes 20-plus specialty offices in more than 40 office locations throughout Sussex County. Practices include the specialties of: Cardiothoracic Surgery, Dermatology, Endocrinology, Family Medicine, Gastroenterology, General and Bariatric Surgery, Hospital Medicine, Infectious Diseases and Travel Medicine, Internal Medicine, Pediatric Neurology, Pulmonary & Sleep Disorders, Surgical Oncology, Urology, and Women's Healthcare. Four Walk-in Care Centers serve the community in Rehoboth Beach, Georgetown, Millsboro, and Millville from 9 a.m. to 7 p.m. daily.
---