Beebe Medical Group Welcomes Victorino DeJesus, MD, to Beebe Primary Care – Georgetown 
Image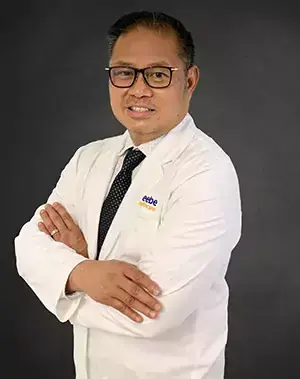 Victorino DeJesus, MD, has joined Beebe Medical Group and will see patients at Beebe Primary Care – Georgetown. To make an appointment, call 302-645-3332. 
Dr. DeJesus is board certified in internal medicine. He received his medical degree from University of the East Ramon Magsaysay Medical Center in the Philippines. He completed a post-graduate internship at St. Luke's Medical Center and completed his internal medicine and primary care residency at the University of Connecticut Health Center. Prior to joining Beebe Healthcare, Dr. DeJesus worked as a primary care physician with Tidal Health and in private practice in southern Sussex County for more than 10 years.  
"My philosophy is patient-first and promise to always find the time to listen to them," said Dr. DeJesus. "That's why I joined Beebe because it stands for the same ideals that I envision for Sussex county – to be one of the healthiest in the nation."
Dr. DeJesus is one of more than 60 new providers in the last year who have joined Beebe Medical Group, which includes 20-plus specialty offices in more than 40 office locations throughout Sussex County. 
"Beebe is creating a great community health system for Sussex County. This means building an integrated healthcare delivery system with services ranging from primary care to specialists so that your needs can be addressed right here in Sussex County," said David A. Tam, MD, MBA, FACHE, President & CEO, Beebe Healthcare. "Please help me welcome to Dr. DeJesus to Team Beebe."
When patients see providers that are within the Beebe Medical Group, they enjoy the experience of seamless electronic medical correspondence between office visits, outpatient facilities and the hospital.
Practices include the specialties of: Cardiothoracic Surgery, Dermatology, Endocrinology, Family Medicine, Gastroenterology, General and Bariatric Surgery, Hospital Medicine, Infectious Diseases and Travel Medicine, Internal Medicine, Pediatric Neurology, Pulmonary & Sleep Disorders, Surgical Oncology, Urology, and Women's Healthcare. 
Four Walk-in Care Centers serve the community in Rehoboth Beach, Georgetown, Millsboro, and Millville from 9 a.m. to 7 p.m. daily. The group also operates three school-based health centers at Cape Henlopen High School, Sussex Central, and Indian River High School.
Beebe Healthcare is a not-for-profit community healthcare system with a charitable mission to encourage healthy living, prevent illness, and restore optimal health for the people who live in, work in, and visit the communities we serve. Beebe Healthcare has three campuses: the Margaret H. Rollins Lewes Campus, which houses the medical center; the Rehoboth Health Campus; and the South Coastal Health Campus. Beebe Healthcare offers primary care as well as specialized services in the areas of cardiovascular, oncology, orthopaedics, general surgery, robotic surgery and women's health. Beebe also offers walk-in care, lab, imaging and physical rehabilitation services at several locations throughout Sussex County, in addition to a home health program and a comprehensive community health program. 
---