Independence Community Raises Funds for Tunnell Cancer Center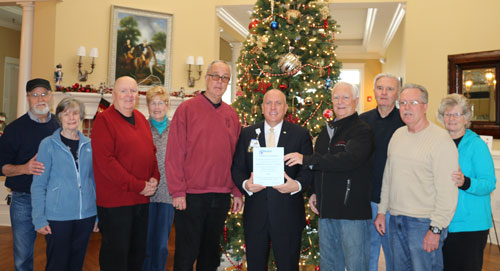 Recently, members of the Independence 55+ Community near Millsboro presented a check to Beebe Healthcare's Tunnell Cancer Center. The check was the result of funds raised during the Schell Brothers Fourth Annual Car Show at Independence.
"We are so grateful to Schell Brothers and the Independence community for supporting Tunnell Cancer Center. Fundraisers such as this one help Beebe Healthcare and Tunnell Cancer Center care for members of our community" said Tom Protack, Vice President of Development, Beebe Medical Foundation.
Everett Toomey, one of the car show organizers, added, "Working with the Beebe Medical Foundation has been a real pleasure. We are so pleased that our donation will be staying local and helping people in the area."
This year's Independence Car Show will be held June 10, 2017. Denny Spaulding, Show Chairman, encourages car collectors to enter and car enthusiasts to attend, "This will be our fifth and hopefully our best car show so far. We hope to have more than 125 cars entered in our open show, consisting of seven classes with People's Choice and many specialty awards."
For more information on this year's car show, email [email protected] or call (302) 947-2142.
The Robert & Eolyne Tunnell Cancer Center at Beebe Healthcare was established in 1995. It has received the Commission on Cancer's highest accreditation with commendation as a comprehensive community cancer center. Its clinical specialties are medical oncology/hematology and radiation oncology. It also offers a multidisciplinary approach for planning all cancer treatment. Nearly 200 patients visit the center each day.
Beebe Healthcare is a not-for-profit community healthcare system with a charitable mission to encourage healthy living, prevent illness, and restore optimal health for the people residing, working, or visiting in the communities we serve. It offers services throughout Southern Delaware for residents and visitors, including a 210-licensed-bed hospital, a cancer treatment center, and outpatient facilities providing walk-in care, lab, imaging, and physical rehabilitation services. For more information, please visit us online at www.beebehealthcare.org.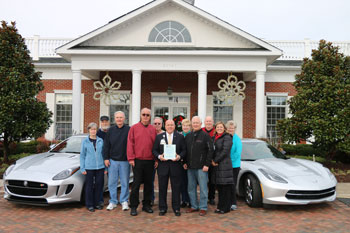 Captions:
Top: Inside Group Shot: Shown (left to right) are James and Linda Reist, Dick and Diana Coyne, Dennis Spaulding, Tom Protack, Vice President of Development for Beebe Medical Foundation, Everett Toomey, Lenox Garrity, John Hartshorn, and Prudence Garrity.
Above: Outside Group Shot: Shown (left to right) are Linda and James Reist, Lenox Garrity, Dennis Spaulding, John Hartshorn, Tom Protack, Vice President of Development for Beebe Medical Foundation, Diana Coyne, Everett Toomey, Dick Coyne, Carrie Snyder, Nurse Navigator at Beebe Healthcare, and Prudence Garrity.
---