VIA Presents Alison Watson with $5,000 Scholarship
The Village Improvement Association of Rehoboth Beach (VIA) has presented this year's $5,000 scholarship to Alison Watson, MSN, RN, CEN, CNE, at Beebe Healthcare, to help fund her advanced nursing education.
The VIA created the annual scholarship in 2016 to support registered nurses at Beebe who are working to advance their clinical knowledge and expertise.
Alison Watson was a graduate from the Beebe School of Nursing, now Margaret H. Rollins School of Nursing. She obtained her BSN/ MSN from Wilmington University with a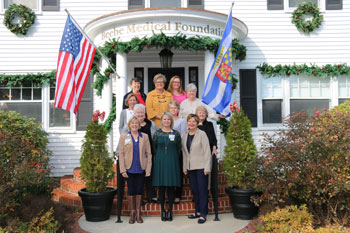 focus in Leadership and Education, and is completing her Doctorate in Higher Education Leadership and Innovation (Ed.D) from Wilmington University, expected January 2018. Ms. Watson has completed both her Certifications for Emergency Nurses (CEN) and Certification for Nurse Educators (CNE).
Ms. Watson began working as a Patient Care Technician in the Beebe Emergency Department during nursing school and transitioned to the Graduate Nurse role following graduation. She started working part-time at the School of Nursing as a clinical instructor, while remaining part-time in the Emergency Department. She then transitioned to a full-time faculty role at the School of Nursing in 2014. She currently serves as the Course Coordinator for Nursing 201: Nursing Care of Special Populations and Assistant Course Coordinator for Nursing 202: Advanced Nursing Concepts. In addition, Watson serves as the Admissions Chair, attending a variety of recruitment events for prospective students throughout Delaware.
"The VIA's commitment to assist Sussex County registered nurses employed at Beebe Medical Center in their pursuit of an advanced degree in nursing not only supports financially an individual nurse, but also as a by-product improves the quality of care in our community," said Rose Marie Patin, MSN, RN, President of the Village Improvement Association of Rehoboth Beach.
The VIA, established in 1909, has a vision to improve and increase the intellectual culture, educational advancement and continued moral development of its members by promoting the interest, improvement and progress of Rehoboth Beach and by performing charitable and civic work in the greater Rehoboth Beach area. In 2017, the VIA gave $73,875 donations to local charities and organizations. Its 252 members volunteered a total of 25,114 hours in behalf of the VIA projects and organizations.
"As a System Level Nurse Educator for Clinical Professional Development at Beebe Healthcare, my personal educational philosophy includes creating an environment for the learner to promote success. I certainly believe the VIA scholarship helps to create an environment for Alison that will promote her educational success," said Laura Smith, nurse educator at Beebe Healthcare, RN, MSN, CNE.
Nurses at Beebe Healthcare gain continual clinical education opportunities onsite through the organization's Educational Institute (BHEI). Beebe provides tuition reimbursement each year for education directly related to the clinical professional's work, though the reimbursement does not cover the entire cost of education. Beebe also recognizes six nurses each year who provide high quality care through its Nursing Excellence Award program.
"Alison is to be commended for her professional achievements. Obtaining a doctorate degree requires commitment at the highest professional level for a nursing instructor. She is a wonderful example to our nursing students and to other faculty members at the School of Nursing," said Karen Pickard, MSN, RN, CNE, Program Administrator of Beebe Healthcare's Margaret H. Rollins School of Nursing.
"We congratulate Alison Watson for this honor," said Judy Aliquo, President and CEO of Beebe Medical Foundation. "We are proud of the exceptional care that our nurses provide at Beebe Healthcare. We appreciate VIA's donation in continued support of our nurses' commitment to always learning, always growing to serve our patients in the extraordinary way that they do. We are honored and thrilled to partner with the VIA and are so appreciative of their generous support of Beebe."
Photo Caption: The VIA presented Beebe nurse Alison Watson, MSN, RN, CEN, CNE, with the second annual $5,000 scholarship award for registered nurses pursuing advanced education.
Front row, left to right: Judy L. Aliquo, President and CEO, Beebe Medical Foundation; scholarship winner Alison Watson, MSN, RN, CEN, CNE; Rose Marie Patin, VIA President; Middle row, left to right: Kate McKenzie, VIA member; Gail Shaffer, VIA member; Elaine Ingram, Beebe Home Health nurse and Alison's mother; Carole Suchanek, VIA member; Top row, left to right: Ronnie Lutz, VIA member; Liz Zehner RN, Quality Outcomes, Beebe Healthcare; Laura Smith, RN, MSN, CNE, a clinical educator, Beebe Healthcare; and Mary Folan, VIA member.
Beebe Medical Foundation was established in 1989 with the sole mission to raise philanthropic support for Beebe Healthcare. The Foundation is located at 902 Savannah Road, Lewes, DE 19958. To learn more about how you can give, please contact the Beebe Medical Foundation at (302) 644-2900 or visit us online at Beebe Medical Foundation.
Beebe Healthcare is a not-for-profit community healthcare system with a charitable mission to encourage healthy living, prevent illness, and restore optimal health for the people who live, work, and visit the communities we serve. Beebe offers services throughout Southern Delaware, including a 210-licensed-bed medical center in downtown Lewes, a cancer treatment center, home care services, and outpatient facilities providing walk-in care, lab, imaging, and physical rehabilitation services. For more information on services offered through Beebe, go to Beebe Healthcare. To find out how Beebe Healthcare is creating the next generation of care for the community, go to Next Generation of Care.
---