VIA Presents Beebe Nursing Leaders with Scholarships
Image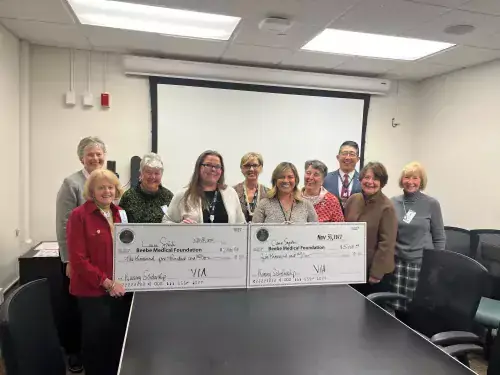 The Village Improvement Association of Rehoboth Beach presented Beebe nursing leaders with two scholarships. One of $5,000 to Carrie Snyder, MSN, APRN, FNP-BC, PMH-C, and another of $2,500 to Laura Smith, DNP, RN, NPD-BC.
Snyder has been a Registered Nurse for 18 years and a Family Nurse Practitioner for 14 years, and currently serves in this capacity and works as the Service Line Nurse Navigator for Beebe, where she helps patients "navigate" the healthcare system to ensure they get the services and care they need.
Snyder graduated from University of Delaware with a BSN in Nursing and began working at Beebe as a nurse in the ICU. She returned to school to get a master's in Nursing from Wilmington University, and became certified as a Family Nurse Practitioner. She has received additional certification in Perinatal Mental Health from Postpartum Support International. Born and raised in Sussex County, Snyder is married with two children and resides in Millsboro.
"One of my favorite Beebe values is, 'Dedicate yourself to be an expert in your field, always learning and always growing,' " Snyder says. "Healthcare is constantly changing and nurses play a crucial role. As healthcare continues to evolve, the role of the advanced practice nurse is becoming more and more important in creating the highest level of compassionate healthcare possible. One of the reasons I returned to graduate school for a doctorate in nursing is to be able to contribute to the evolution of healthcare in my community.
"I am so grateful to the VIA for seeing value in continued education for nurses and investing in the future of Beebe Healthcare. I am in awe of the generosity to help support not only my professional journey, but also the missions of so many in our community."
Smith, who received the second scholarship, currently serves Beebe Healthcare as a System Level Clinical Nurse Educator in the Clinical Professional Development Department. She recently obtained her Doctorate in Nursing Practice in the educational leadership track from American Sentinel University.
Smith has been with Beebe for 22 years, starting as a certified nursing assistant in 2000 after graduating from the Margaret H. Rollins School of Nursing at Beebe Healthcare, and she obtained her BSN and MSN at Wilmington University. Her nursing experience includes medical surgical, pediatrics, and adult oncology.
As a member of the nursing faculty for 10 years, her classroom and clinical focus was medical surgical and pediatrics with senior nursing students. Smith's future professional goals include obtaining the American Nurses Credentialing Center accreditation for the Graduate Nurse Residency Program.
"I am sincerely thankful to the Village Improvement Association for this generous scholarship, which will help create an environment to promote my success and those I serve," she said.
The VIA, established in 1909, is a non-profit organization dedicated to serving the Cape Henlopen community through volunteer services and financial support. Since its inception a strong focus has been placed on education and advancement for women and for the community. The Advanced Nursing Scholarship was initiated in 2016 to support registered nurses at Beebe who are working to advance their clinical knowledge and expertise in answer to the need for healthcare professionals as the area's population increases.
"The VIA commitment to assist Sussex County registered nurses employed at Beebe Healthcare in their pursuit of an advanced degrees in nursing not only financially supports an individual nurse, but greatly improves the quality of care in our community," says Rose Marie Patin, MSN, RN, VIA Chairman of Advanced Nursing Scholarship Committee.
From left to right: Carole Suchanek, Kay Young, Mary Folan, Laura Smith, Kate Bechtold, Carrie Snyder, Veronica Lutz, Dr. David Tam, Rose Marie Patin, and Kate McKenzie
---