Progress for Prostate Golf Tournament Presents $53,000 Gift to Beebe Healthcare's Tunnell Cancer Center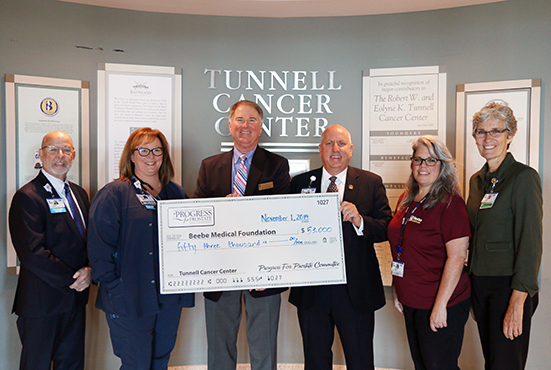 Beebe Medical Foundation's Progress for Prostate Golf Tournament Event Chair, Drew Sunderlin, recently presented a check from June's event for $53,000 to benefit the Men's Health program at Beebe Healthcare's Tunnell Cancer Center.
Over the past 16 years, this event has raised more than $500,000, advancing the progress and capabilities of how Tunnell Cancer Center serves the community. Progress for Prostate has been instrumental in bringing state-of-the art robotic surgery to Beebe Healthcare with the addition of the da Vinci Xi, the latest in robotic surgery technology. All proceeds from this tournament will go directly to offset costs associated with this life-saving instrument and associated services.
In addition to the tournament, Progress for Prostate held a "Dine and Donate" event at Paradise Grill. The committee also held a one-month fundraiser through Hocker's Grocery Stores and a Patio Party the evening before the tournament.
"We are the first gender-specific fundraiser in the state of Delaware directly benefiting men's health," said Mr. Sunderlin. "It is truly amazing to see the strong interest in our community, especially from the local businesses in the South Coastal area, who loyally support Beebe and this great initiative, to increase the awareness of areas surrounding men's health."
"The Beebe Medical Foundation is truly grateful to Drew and his great committee and all the local donors who have the event and the fundraising such a success," said Judy Aliquo, President and CEO, Beebe Medical Foundation.
Save the date for next year's 2nd Annual Patio Party on June 17, 2020, and the 17th Annual Tournament on June 18, 2020, at the Cripple Creek Golf & Country Club. For more information, visit Beebe Medical Foundation at www.beebemedicalfoundation.org or call 302-644-2900.
Caption: Pictured here, left to right, are: Barry Hamp, Executive Director, Beebe Oncology Services; Teresa Lesher, Clinical Nurse, Tunnell Cancer Center; Drew Sunderlin, Event Chair, "Progress for Prostate" Committee; Tom Protack, Vice President of Development, Beebe Medical Foundation; Brandi Denning, Clinical Care Assistant, Diane Barlow, Major Gift Officer, Beebe Medical Foundation.
---