Sintia Rodriguez's Journey from ER nurse to Caring for Primary Care Patients
Rodriguez, FNP, Now Seeing Patients at Beebe Primary Care Georgetown
Image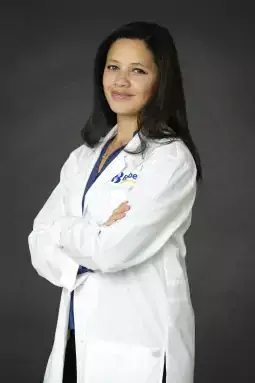 In spring 2020, as the COVID-19 pandemic was unfolding, Sintia Rodriguez, MSN, a behavioral health nurse at Beebe Healthcare, found herself doing a little extra around the hospital and community – like so many other healthcare workers.
Rodriguez was visiting COVID-19 patients who needed an interpreter, and when the virus spiked in Georgetown, Rodriguez was also at the testing sites, interpreting and educating community members about COVID-19. Sometimes she would finish the testing event during the day and head to the Margaret H. Rollins Lewes Campus for her overnight shift. One particular day, she also interpreted a Facebook Live with Dr. David Tam to reach Spanish speaking viewers and boosting the number of community members who came out to be tested. Late in 2020, Rodriguez also became the first person to receive the COVID-19 vaccine on Dec. 16, 2020.
All the while, Rodriguez was pursing her Nursing Practitioner degree at Wilmington University, which she earned in May 2021 – almost a year after those nearly daily testing sites. 
Now, Rodriguez, a family nurse practitioner, will be seeing patients at Beebe Primary Care Georgetown, fulfilling a career pursuit that began in 2009 as a licensed practical nurse (LPN).
"The pandemic was very influential on my career path," Rodriguez said. "I had no doubt in my mind I wanted to work in the emergency department or as a hospitalist when I started NP school. When I realized the impact of the pandemic on my community, and the detrimental causes due to lack of education and lack of support, it changed my course. I realized I wanted to be in the front end of patients' medical care. I wanted to be in the preventive side. I wanted to minimize patients deteriorating physically and mentally. I knew being a primary care provider that I could do some good, especially being bilingual."
Image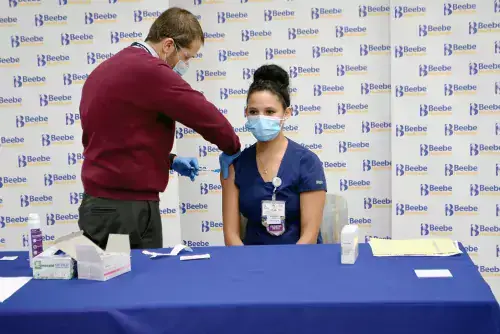 In addition to behavioral health, Rodriguez's clinical background is diverse with experience in emergency medicine, hospice and palliative care, as well as other outpatient services. She switched her major from education to nursing after witnessing the "sensitive and empathetic" post-surgery care her baby brother received from a nurse. 
"Stories like Sintia's are so inspirational," said Dr. Tam, MBA, CPHE, FACHE, President & CEO, Beebe Healthcare. "She is passionate about caring for this community, and I am so happy to know she will be continuing to take care of Beebe patients and Sussex County families."
Patients looking for a primary care provider can call 302-645-3332 to find a provider accepting patients.
---