Waves Car Wash to Partner with Beebe Healthcare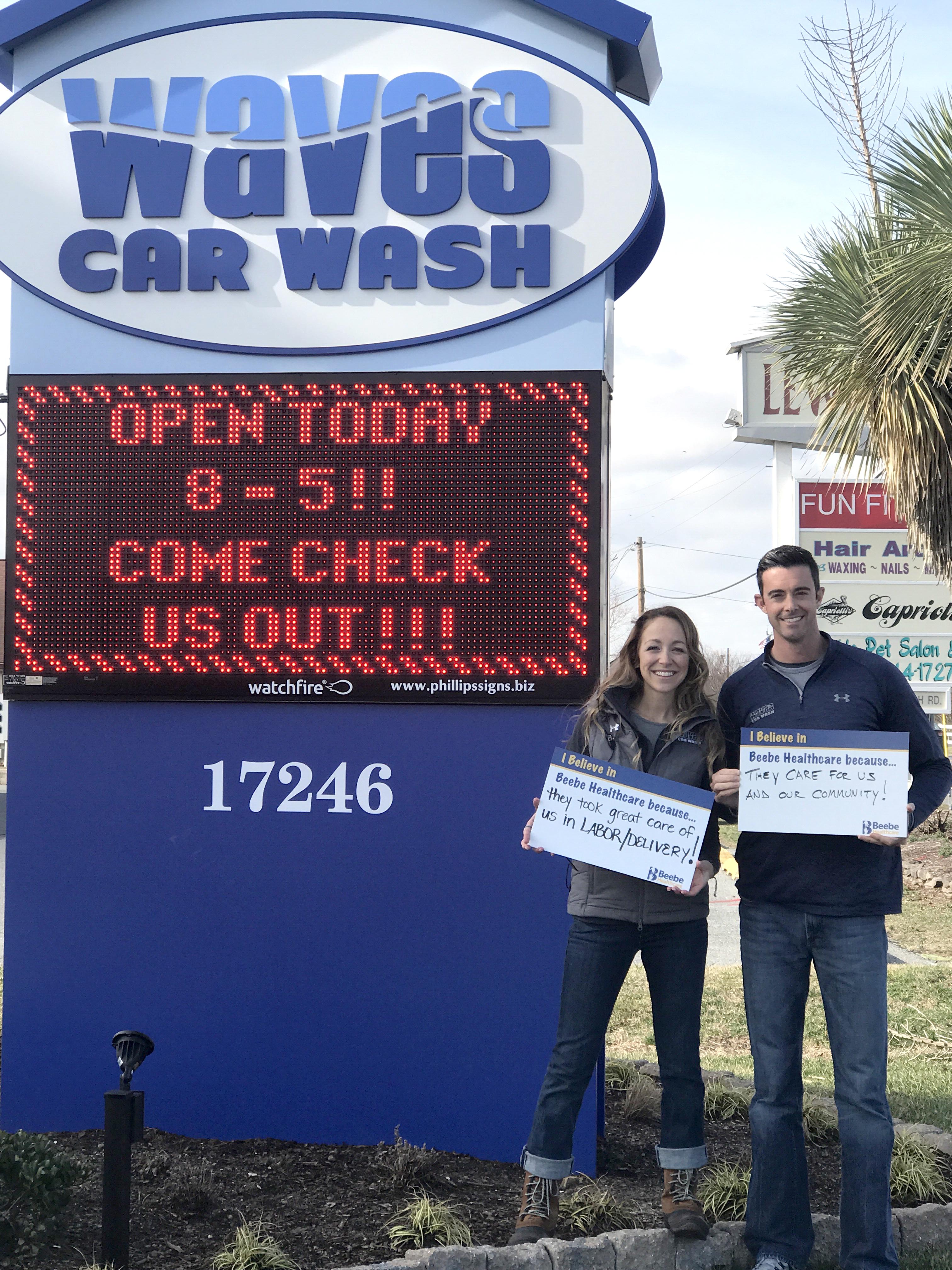 Waves Car Wash, now in Lewes, will be hosting the inaugural Tunnell Tuesday on Tuesday, January 31 (rain date Wednesday, February 1), from 8 a.m. to 5 p.m. Four dollars from every car washed on Tunnell Tuesday will be donated to Beebe Healthcare's Tunnell Cancer Center.
Waves, located at 17246 Five Points Square (next to Walgreens on Savannah Road), is Sussex County's greenest car wash, offering full service and exterior-only car washes.
Mike Anthenelli says his car wash is unlike any other in the Cape Region, offering Waves Car Wash patrons an experience. "We want this to be a community centric business," he said. "We want everyone to walk out with a smile on their face."
Anthenelli and wife, Danni, said they knew they wanted to give back to the community before they even broke ground on the new car wash.
"I've spent the last 15 years working in the medical field and I know how difficult and demanding the medical profession can be. Partnering with the nurses, staff, and providers that make Beebe such a great institution was a goal of ours before we ever put a shovel in the ground to begin building the car wash," Anthenelli said. "Like most of us, cancer has impacted our family greatly. I lost my father to pancreatic cancer last year and with my mother as a cancer survivor, I couldn't think of a better beneficiary than the Tunnell Cancer Center."
"The Beebe Medical Foundation is so grateful to Mike and Danni for choosing to support the Tunnell Cancer Center," said Thomas J. Protack, Vice President of Development, Beebe Medical Foundation. "They have joined so many local businesses who realize the importance of giving where we live and supporting our local cancer center and hospital. I am excited for this great fundraiser which will not only raise important funds for the Tunnell Cancer Center but raise the awareness for others to support the cause."
For more information or to donate to Beebe Medical Foundation in support of Beebe Healthcare, the local, community not-for-profit healthcare system, call (302) 644-2900 or go to www.beebemedicalfoundation.org.
About Tunnell Cancer Center
The Robert & Eolyne Tunnell Cancer Center at Beebe Healthcare was established in 1995. It has received the Commission on Cancer's highest accreditation with commendation as a comprehensive community cancer center. Its clinical specialties are medical oncology/hematology and radiation oncology. It also offers a multidisciplinary approach for planning all cancer treatment. Nearly 200 patients visit the center each day. For more information on cancer care at Beebe, go to https://www.beebehealthcare.org/tunnell-cancer-center.
Beebe Healthcare is a not-for-profit community healthcare system with a charitable mission to encourage healthy living, prevent illness, and restore optimal health for the people residing, working, or visiting in the communities we serve. It offers services throughout Southern Delaware for residents and visitors, including a 210-licensed-bed hospital, a cancer treatment center, and outpatient facilities providing walk-in care, lab, imaging, and physical rehabilitation services. For more information, please visit us online at www.beebehealthcare.org.
---