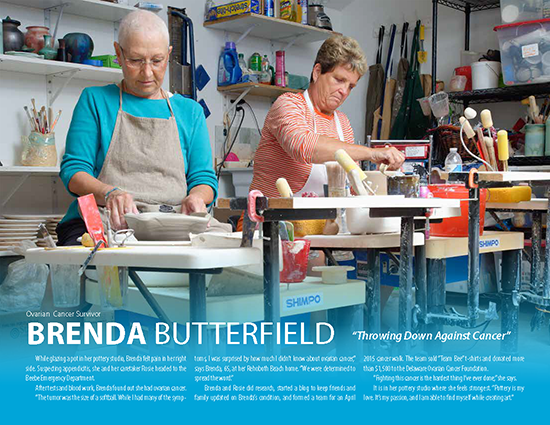 While glazing a pot in her pottery studio, Brenda felt pain in her right side. Suspecting appendicitis, she and her caretaker Rosie headed to the Beebe Emergency Department.
After tests and blood work, Brenda found out she had ovarian cancer. "The tumor was the size of a softball. While I had many of the symptoms, I was surprised by how much I didn't know about ovarian cancer," says Brenda, 65, at her Rehoboth Beach home. "We were determined to spread the word."
Brenda and Rosie did research, started a blog to keep friends and family updated on Brenda's condition, and formed a team for an April 2015 cancer walk. The team sold "Team Bee" t-shirts and donated more than $1,500 to the Delaware Ovarian Cancer Foundation.
"Fighting this cancer is the hardest thing I've ever done," she says. It is in her pottery studio where she feels strongest. "Pottery is my love. It's my passion, and I am able to find myself while creating art."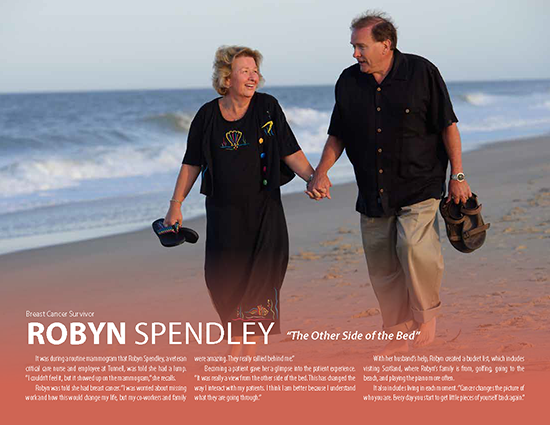 It was during a routine mammogram that Robyn Spendley, a veteran critical care nurse and employee at Tunnell, was told she had a lump. "I couldn't feel it, but it showed up on the mammogram," she recalls.
Robyn was told she had breast cancer. "I was worried about missing work and how this would change my life, but my co-workers and family were amazing. They really rallied behind me."
Becoming a patient gave her a glimpse into the patient experience. "It was really a view from the other side of the bed. This has changed the way I interact with my patients. I think I am better because I understand what they are going through." With her husband's help, Robyn created a bucket list, which includes visiting Scotland, where Robyn's family is from, golfing, going to the beach, and playing the piano more often.
It also includes living in each moment. "Cancer changes the picture of who you are. Every day you start to get little pieces of yourself back again."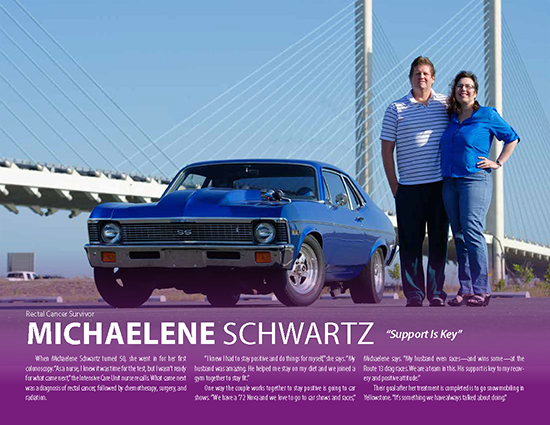 When Michaelene Schwartz turned 50, she went in for her first colonoscopy. "As a nurse, I knew it was time for the test, but I wasn't ready for what came next," the Intensive Care Unit nurse recalls. What came next was a diagnosis of rectal cancer, followed by chemotherapy, surgery, and radiation. "I knew I had to stay positive and do things for myself," she says. "My husband was amazing. He helped me stay on my diet and we joined a gym together to stay fit."
One way the couple works together to stay positive is going to car shows. "We have a '72 Nova and we love to go to car shows and races,"Michaelene says. "My husband even races—and wins some—at the Route 13 drag races. We are a team in this. His support is key to my recov-ery and positive attitude."
Their goal after her treatment is completed is to go snowmobiling in Yellowstone. "It's something we have always talked about doing."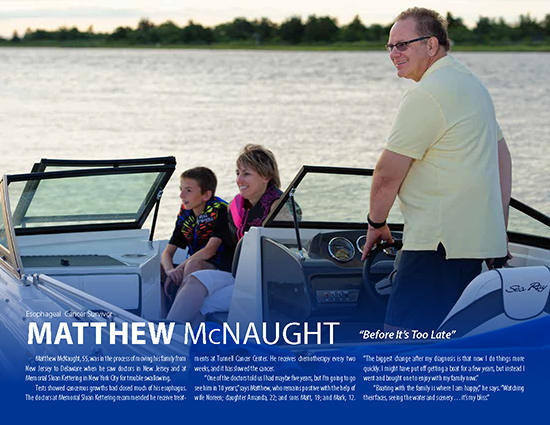 Matthew McNaught, 55, was in the process of moving his family from New Jersey to Delaware when he saw doctors in New Jersey and at Memorial Sloan Kettering in New York City for trouble swallowing.
Tests showed cancerous growths had closed much of his esophagus. The doctors at Memorial Sloan Kettering recommended he receive treatments at Tunnell Cancer Center. He receives chemotherapy every two weeks, and it has slowed the cancer.
"One of the doctors told us I had maybe five years, but I'm going to go see him in 10 years," says Matthew, who remains positive with the help of wife Noreen; daughter Amanda, 22; and sons Matt, 19; and Mark, 12. "The biggest change after my diagnosis is that now I do things more quickly. I might have put off getting a boat for a few years, but instead I went and bought one to enjoy with my family now."
"Boating with the family is where I am happy," he says. "Watching their faces, seeing the water and scenery . . . it's my bliss."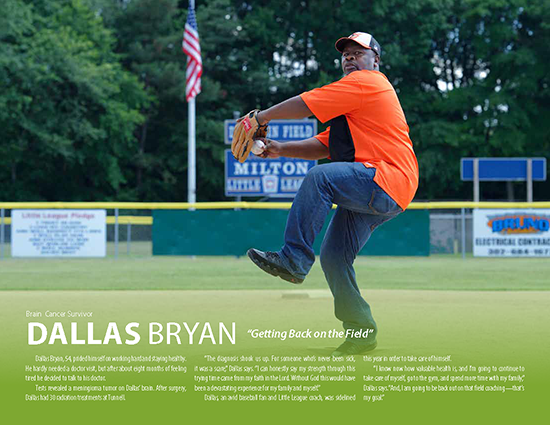 Dallas Bryan, 54, prided himself on working hard and staying healthy. He hardly needed a doctor visit, but after about eight months of feeling tired he decided to talk to his doctor.
Tests revealed a meningioma tumor on Dallas' brain. After surgery, Dallas had 30 radiation treatments at Tunnell. "The diagnosis shook us up. For someone who's never been sick, it was a scare,"
Dallas says. "I can honestly say my strength through this trying time came from my faith in the Lord. Without God this would have been a devastating experience for my family and myself." Dallas, an avid baseball fan and Little League coach, was sidelined this year in order to take care of himself.
"I know now how valuable health is, and I'm going to continue to take care of myself, go to the gym, and spend more time with my family," Dallas says. "And, I am going to be back out on that field coaching—that's my goal."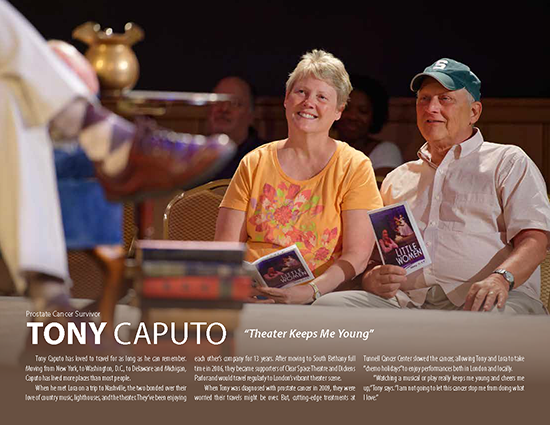 Tony Caputo has loved to travel for as long as he can remember. Moving from New York, to Washington, D.C., to Delaware and Michigan, Caputo has lived more places than most people.
When he met Lora on a trip to Nashville, the two bonded over their love of country music, lighthouses, and the theater. They've been enjoying each other's company for 13 years. After moving to South Bethany full time in 2006, they became supporters of Clear Space Theatre and Dickens Parlor and would travel regularly to London's vibrant theater scene.
When Tony was diagnosed with prostate cancer in 2009, they were worried their travels might be over. But, cutting-edge treatments at Tunnell Cancer Center slowed the cancer, allowing Tony and Lora to take "chemo holidays" to enjoy performances both in London and locally.
"Watching a musical or play really keeps me young and cheers me up," Tony says. "I am not going to let this cancer stop me from doing what I love."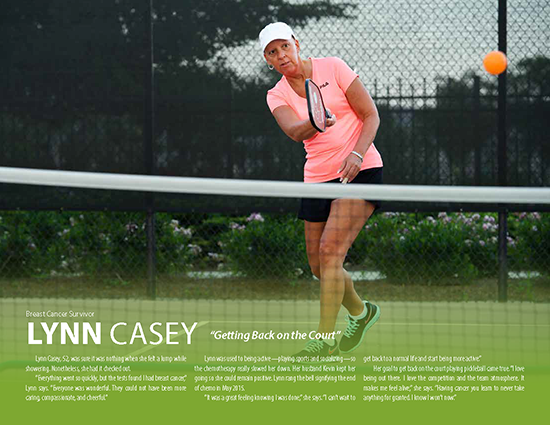 Lynn Casey, 52, was sure it was nothing when she felt a lump while showering. Nonetheless, she had it checked out.
"Everything went so quickly, but the tests found I had breast cancer," Lynn says. "Everyone was wonderful. They could not have been more caring, compassionate, and cheerful." Lynn was used to being active—playing sports and socializing—so the chemotherapy really slowed her down. Her husband Kevin kept her going so she could remain positive. Lynn rang the bell signifying the end of chemo in May 2015. "It was a great feeling knowing I was done," she says. "I can't wait to get back to a normal life and start being more active."
Her goal to get back on the court playing pickleball came true. "I love being out there. I love the competition and the team atmosphere. It makes me feel alive," she says. "Having cancer you learn to never take anything for granted. I know I won't now."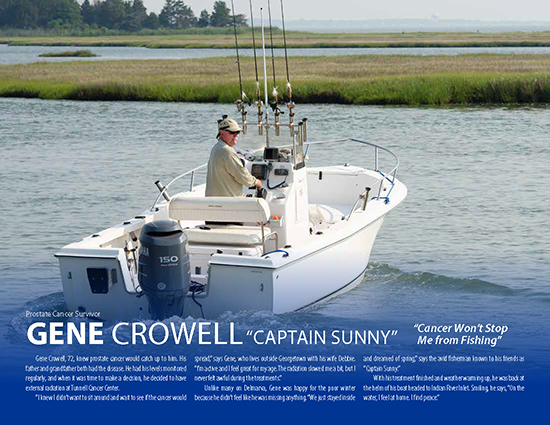 Gene Crowell, 72, knew prostate cancer would catch up to him. His father and grandfather both had the disease. He had his levels monitored regularly, and when it was time to make a decision, he decided to have external radiation at Tunnell Cancer Center."I knew I didn't want to sit around and wait to see if the cancer would spread," says Gene, who lives outside Georgetown with his wife Debbie. "I'm active and I feel great for my age. The radiation slowed me a bit, but I never felt awful during the treatments."
Unlike many on Delmarva, Gene was happy for the poor winter because he didn't feel like he was missing anything. "We just stayed inside and dreamed of spring," says the avid fisherman known to his friends as "Captain Sunny."
With his treatment finished and weather warming up, he was back at the helm of his boat headed to Indian River Inlet. Smiling, he says, "On the water, I feel at home. I find peace."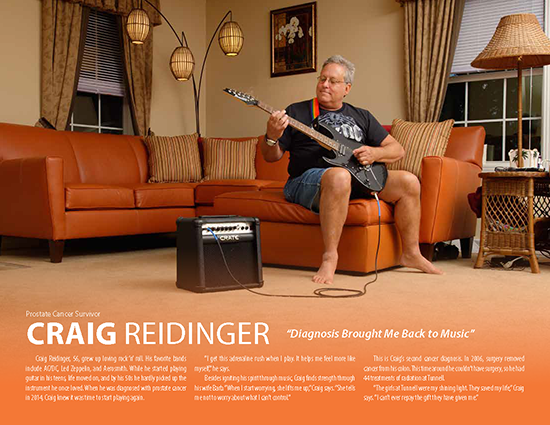 Craig Reidinger, 56, grew up loving rock 'n' roll. His favorite bands include AC/DC, Led Zeppelin, and Aerosmith. While he started playing guitar in his teens, life moved on, and by his 50s he hardly picked up the instrument he once loved. When he was diagnosed with prostate cancer in 2014, Craig knew it was time to start playing again. "I get this adrenaline rush when I play. It helps me feel more like myself," he says.
Besides igniting his spirit through music, Craig finds strength through his wife Barb. "When I start worrying, she lifts me up," Craig says. "She tells me not to worry about what I can't control." This is Craig's second cancer diagnosis. In 2006, surgery removed cancer from his colon. This time around he couldn't have surgery, so he had 44 treatments of radiation at Tunnell.
"The girls at Tunnell were my shining light. They saved my life," Craig says. "I can't ever repay the gift they have given me."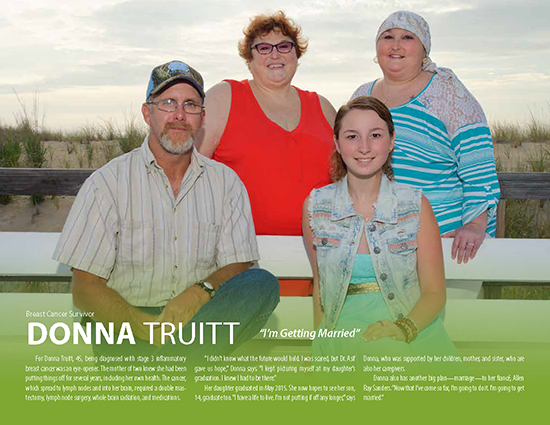 For Donna Truitt, 45, being diagnosed with stage 3 inflammatory breast cancer was an eye-opener. The mother of two knew she had been putting things off for several years, including her own health. The cancer, which spread to lymph nodes and into her brain, required a double mas-tectomy, lymph node surgery, whole brain radiation, and medications. "I didn't know what the future would hold. I was scared, but Dr. Asif gave us hope," Donna says. "I kept picturing myself at my daughter's graduation. I knew I had to be there."
Her daughter graduated in May 2015. She now hopes to see her son, 14, graduate too. "I have a life to live. I'm not putting if off any longer," says Donna, who was supported by her children, mother, and sister, who are also her caregivers.
Donna also has another big plan—marriage—to her fiancé, Allen Ray Sanders. "Now that I've come so far, I'm going to do it. I'm going to get married."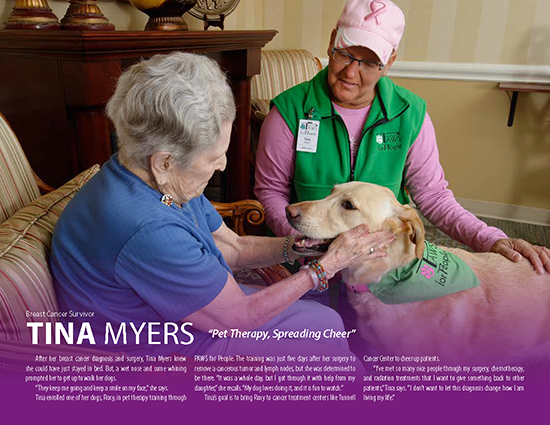 After her breast cancer diagnosis and surgery, Tina Myers knew she could have just stayed in bed. But, a wet nose and some whining prompted her to get up to walk her dogs. "They keep me going and keep a smile on my face," she says.
Tina enrolled one of her dogs, Roxy, in pet therapy training through PAWS for People. The training was just five days after her surgery to remove a cancerous tumor and lymph nodes, but she was determined to be there. "It was a whole day, but I got through it with help from my daughter," she recalls. "My dog loves doing it, and it is fun to watch."Tina's goal is to bring Roxy to cancer treatment centers like Tunnell Cancer Center to cheer up patients.
"I've met so many nice people through my surgery, chemotherapy, and radiation treatments that I want to give something back to other patients," Tina says. "I don't want to let this diagnosis change how I am living my life."