Additional Resources for Coronavirus (COVID-19)
Beebe wants to provide resources to help keep you and your family safe during the outbreak of coronavirus (COVID-19).
Find informative articles and columns by Beebe experts on the Health Hub.
---
Social Distancing Tips from Beebe Experts
Dr. Bill Chasanov (left) and Dr. Scott Olewiler of Beebe Infectious Disease & Travel Medicine provide tips to stay healthy during coronavirus (COVID-19).
Ways to Take Precautions
Social distancing: Stay six feet away from others around you.
Avoid close contact with people who are sick
Clean your hands often: Wash your hands often with soap and water for at least 20 seconds, especially after blowing your nose, coughing, or sneezing, or having been in a public place.
If soap and water are not available, use a hand sanitizer that contains at least 60% alcohol.
To the extent possible, avoid touching high-touch surfaces in public places – elevator buttons, door handles, handrails, handshaking with people, etc. Use a tissue or your sleeve to cover your hand or finger if you must touch something. If you do touch a public surface, wash your hands directly afterward.
Avoid touching your face, nose, eyes, etc.
Clean and disinfect your home to remove germs: practice routine cleaning of frequently touched surfaces (for example: tables, doorknobs, light switches, handles, desks, toilets, faucets, sinks & cell phones).
Avoid crowds, especially in poorly ventilated spaces. Your risk of exposure to respiratory viruses like COVID-19 may increase in crowded, closed-in settings with little air circulation if there are people in the crowd who are sick.
Avoid all non-essential travel including plane trips, and especially avoid embarking on cruise ships.
Read CDC advice for people at risk for serious illness from COVID-19: https://www.cdc.gov/coronavirus/2019-ncov/specific-groups/high-risk-complications.html
---
What is Coronavirus (COVID-19)?
The respiratory virus, first identified in Wuhan, China, has been named SARS-CoV-2 and the disease it causes is known as coronavirus disease 2019 (COVID-19). It has the potential to cause severe illness and pneumonia in some people.
The best resource for general questions on Coronavirus is the Division of Public Health Coronavirus Call Center.
The State will be answering questions for those who call 1-866-408-1899 (8:30-4:30 M-F), or email dphcall@delaware.gov.
FAQs
It is currently flu and respiratory disease season, and flu activity is still high and expected to continue for a number of weeks.
Anyone who recently traveled to China, Italy, South Korea or Iran in the past month is asked to contact the Division of Public Health at 1-888-295-5156 to advise so we can provide recommendations for self-monitoring at home.
Here is a flyer from Delaware Health and Social Services that provides more information on how to protect yourself.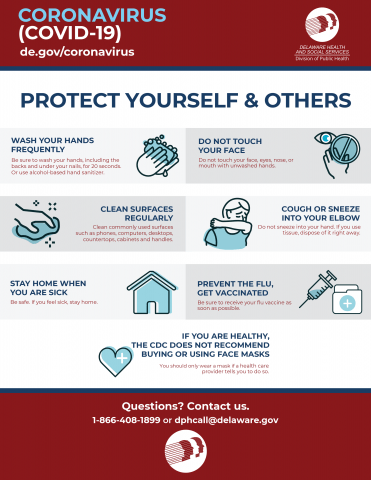 ---
Additional Resources