COVID-19 Vaccine Information
Beebe has a plan to support the vaccination efforts in our community. The roll-out of Phase 1B (persons 65+ and essential workers) depends on many factors, including federal allotment, and shipments to the state of Delaware.
Thank you for the privilege of being your healthcare partner. Please click on the buttons below to get the latest information on the COVID-19 vaccine.
---
INFORMATION IN THIS DIGITAL RESOURCE
It is important – even once you are vaccinated - to continue to practice the three Ws:
Wash your hands, Watch your distance, and Wear a mask.
---
Get On A Vaccine Waiting List - For Those 65 & Older
Beebe Healthcare is offering a Beebe COVID-19 Vaccine Wait List. This list is open to anyone age 65 or older who wants to be included in future communications and scheduling options to receive the vaccine through Beebe. Beebe has been receiving limited supplies from the state allotment. As supplies become available, we will be offering vaccines based on the state's phases. To be included on Beebe's wait list, click the button below.
For more information or to call to get on Beebe's COVID-19 Wait List, call 302-645-3200.
The state of Delaware is also offering a wait list for future vaccination scheduling for those 65 and older. The state will be offering mass vaccination events throughout the state for residents. These events are by appointment only. To get on the list for an appointment based on the state's phases, click the button below.
Questions about the COVID-19 vaccines? Contact the Division of Public Health Vaccine Call Center at 1-833-643-1715. The call center is open from 8:30 a.m. to 4:30 p.m., Monday through Friday, and from 10:00 a.m. to 4:00 p.m. on Saturday. Or email Vaccine@delaware.gov.
Other options for vaccination include:
Your independent primary care provider (if they choose to provide vaccines)
Public health clinics by the Division of Public Health
Local participating pharmacies
Federally Qualified Health Centers
Not everyone eligible for Phase 1B will be able to receive the vaccine right away due to limited supply. As soon as we receive supplies, we will get them into the arms of our community, following the Tier system directed by the state of Delaware.
---
When Can I Be Vaccinated?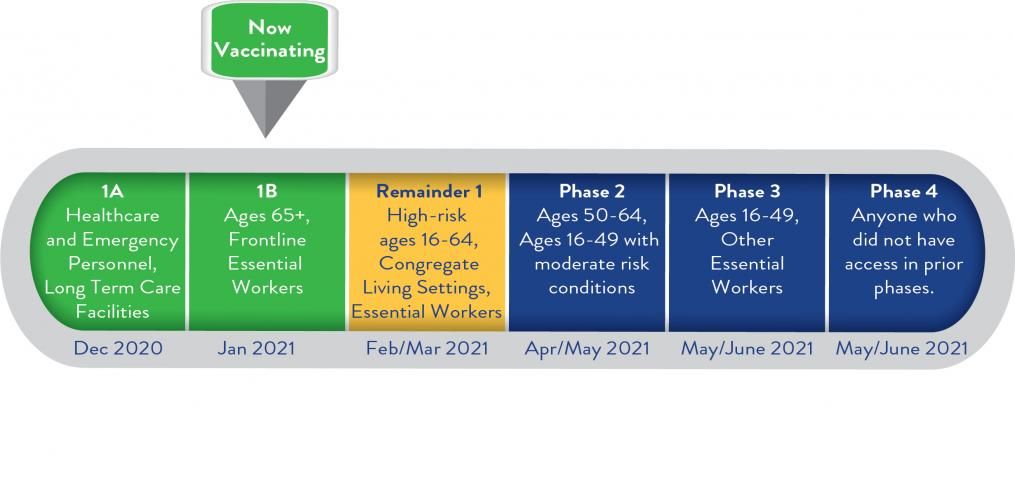 In accordance with the CDC, the state of Delaware's vaccine distribution plan is a phased approach with the goal of reducing death and severe illness.
Many Sussex Countians will be eligible to receive the vaccine during Phase 1B, which includes persons 65 and older, along with other essential workers.
Phase 1A: Health care personnel, Emergency Medical Services agencies, and long-term care staff and residents received the vaccine first.

Phase 1B: By the end of January 2021, those who are ages 65 and older, as well as those considered frontline essential workers including: police, fire, teachers, child care providers, food processing workers, correctional officers, and postal service, public transit and grocery workers will begin to be vaccinated.

Remaining Phase 1: Starting by end of February people in the following categories are expected to be eligible to receive a vaccine:

Persons aged 16-64 with high-risk medical conditions

Persons living in high-risk group settings such as correctional facilities, homeless shelters, and group homes

Phase 2: Beginning in mid-late April, persons aged 50 – 64, persons 16 – 49 with moderate-risk medical conditions, other in group settings who did not receive vaccine in the earlier phases, and essential workers not able to work from home at all times, are likely to receive the vaccine.

Phase 3: Persons aged 16-49 and essential workers not receiving the vaccine in Phase 2 are likely to receive the vaccine in mid-late May.

Phase 4: By late May/early June, those who have not already received the vaccine will be able to access it through primary care providers, pharmacies, and health centers (for patients).
To understand how many vaccine doses are being delivered to Delaware and how the phases are organized, visit My Health Community.
---
Should I Be Vaccinated?
Beebe Healthcare is offering the vaccine to all our team members because we see the evidence that the vaccine is safe and effective.
Everyone eligible for the vaccine should consider vaccination during this public health crisis. The more that are vaccinate the closer the country comes to herd immunity, which is when enough of the population is vaccinated and the virus cannot spread.
You should consult your physician before receiving the vaccine if you:
have any allergies
have a fever
have a bleeding disorder or are on a blood thinner
are immunocompromised or are on a medicine that affects your immune system
are pregnant or plan to become pregnant
are breastfeeding.
Additional resource for those who are pregnant or breastfeeding: https://www.cdc.gov/coronavirus/2019-ncov/vaccines/recommendations/pregnancy.html
If you have additional questions, you can call the state COVID-19 Vaccine Call Center: 302-672-6150 or email questions to: vaccine@delaware.gov.
---
How Was the Vaccine Created & How Does it Work?
The Pfizer and Moderna COVID-19 vaccines, which have both received FDA approval and permission for emergency use, use a technology with messenger RNA (mRNA).
mRNA is the blueprint that our bodies usually use to create proteins. The protein created by these vaccines will in turn cause the body's immune system to form antibodies (special proteins created by the body to fight off infection) against the COVID-19 virus.
It is natural to have apprehension to a new vaccine especially during these difficult times. The process to develop these vaccines have been tremendous and the speed at which we will now receive them is not due to a lack in safety. Learn more about the safety and technology of the vaccine.
Safety is a top priority and is considered before any vaccine before any vaccine is recommended for use. Learn more about how CDC and its partners are ensuring the safety of COVID-19 vaccines: https://www.cdc.gov/coronavirus/2019-ncov/vaccines/safety.html.
---
What are the Side Effects?
Many want to understand the vaccines safety and effectiveness. The reports of higher than 90% efficacy is certainly a good sign.
Most common side effects are:
Redness at the injection site
Swelling or pain at the injection site
Fatigue
Headache
Muscle pain
8 Things to Know about the U.S. COVID-19 Vaccination Program https://www.cdc.gov/coronavirus/2019-ncov/vaccines/8-things.html
---
#TeamBeebe On The COVID-19 Vaccine
---
Frequently Asked Questions
Please keep in mind that information changes rapidly. We strive to have the information below as updated as possible.
There is a five-step, rigorous process for drug and vaccine testing. The critical first step is three phases of clinical trials to learn how the vaccine works in humans. There are more than 100 clinical trials for a vaccine in the U.S., with five of them in the third (or largest and final) stage.
More than 70,000 volunteers were involved in Pfizer's and Moderna's stage-three trials. Results from both indicated that the vaccine candidate was well-tolerated and able to produce an immune response.
The vaccine was developed in a much shorter period of time due to the obvious need to address the public health threat the pandemic posed to the nation. The shorter development time is the result of technology advances to map the virus's DNA and using vaccine platforms developed for other diseases.
The clinical trial process was accelerated by enrolling more people in trials to enhance rapid data collection and earlier analysis of safety data for demographically diverse populations. This also sped up the FDA review process as they have been monitoring the data all along.
Delivery/distribution time was shortened by allowing manufacturing to occur at the same time as instead of after, vaccine approval. A shorter review time does not mean the vaccine is unsafe. Experts and scientists from the FDA and the Advisory Committee on Immunization Practices reviewed the vaccine development data. Extensive post-monitoring efforts will be implemented to safeguard those immunized.
Recognizing the importance of testing within minority populations, vaccine developers worked with community engagement partners to enroll a diverse pool of participants. At least one manufacturer reported 37% of clinical trial volunteers were volunteers from racial and ethnic minority groups. The FDA and CDC will continue to monitor the safety of COVID-19 vaccines, to make sure even very rare side effects are identified. Another reported approximately 42% of global participants and 30% of U.S. participants in the Phase 3 study had racially and ethnically diverse backgrounds, and 41% of global and 45% of U.S. participants were 56-85 years of age.
DPH, with recommendations from the Delaware Public Health and Medical Ethics Advisory Group (Ethics Group) will review the CDC list of prioritized population groups and determine allocation and distribution of vaccine(s). The Ethics Group recommendations will be made based on which groups are most at risk due to how the virus is transmitted (close contact, indoor facilities), the severity rate of the virus in the community, and based on the population groups identified by the CDC. Persons of color work in many of the industries identified for Tier 1 and Tier 2 vaccination. Additionally, both Delaware's COVID Vaccine Task Force and the Communications subcommittee, include representation from organizations representing communities of color and incorporate their feedback into planning.
The COVID-19 infection may pose serious risks to those who get the virus as well as those around the infected person. The virus also comes with potential for long-term health issues after recovery from COVID-19 disease. Because scientists are still learning more about the virus that causes COVID-19, it is not known whether getting COVID-19 disease will protect everyone against getting it again. Getting a COVID vaccine allows a person's body to develop an immune response to a virus without getting sick from the virus itself.
According to the CDC, experts are still learning how a vaccine will provide protection under real-life conditions. We will still need to practice precautions such as wearing a face covering over your mouth and nose, social distancing (staying 6 feet away from others), and frequent handwashing.
When a vaccine becomes widely available, people will be able to get it from their primary care provider, local participating pharmacies, Federally Qualified Health Center, or from the Delaware Division of Public Health. All providers will complete required trainings with authorized vaccine coordinators. Satellite, temporary, or off-site settings may also be utilized to make the vaccine accessible. Enrolled medical providers may receive vaccinations either from the federal level directly or through DPH based on order size and storage needs.
The vaccine will be given to the American people at no cost. However, vaccination providers may be able to charge an office visit fee and will be able to charge an administration fee for giving the vaccine. Vaccine providers can be reimbursed for this fee.
There is not enough information currently available to say if or for how long after infection someone is protected from getting COVID-19 again; this is called natural immunity. Early evidence suggests natural immunity from COVID-19 may not last very long, but more studies are needed to better understand this. In its recommendation to the CDC, Pfizer reported that the vaccination should be offered to persons regardless of history of prior symptomatic or asymptomatic SARS-CoV-2 (COVID-19) infection.
mRNA vaccines are a new type of vaccine to protect against infectious diseases. To trigger an immune response, many vaccines put a weakened or inactivated germ into our bodies. mRNA vaccines do not. Instead, they teach our cells how to make a protein that triggers an immune response inside our bodies. That immune response, which produces antibodies, is what protects us from getting infected if the real virus enters our bodies.

Specifically, COVID-19 mRNA vaccines give instructions for our cells to make a harmless piece of what is called the "spike protein." The spike protein is found on the surface of the virus that causes COVID-19. Once a person receives the vaccine, the instructions (mRNA) are inside the muscle cells and the cells use them to make the protein piece. After the protein piece is made, the cell breaks down the instructions and gets rid of them. It does not alter or interact with your DNA in any way. Our immune systems recognize that the protein doesn't belong there and begin building an immune response and making antibodies, like what happens in natural infection against COVID-19.

The benefit of mRNA vaccines, like all vaccines, is those vaccinated gain this protection without ever having to risk the serious consequences of getting sick with COVID-19.
It is still unknown at this time, how long that would take, but the more people who choose to get the vaccine, the greater chance of reaching herd immunity there will be.
DPH has set up an email and phone number for those with questions. Beebe will also continue to hold virtual town halls to keep the community updated.
DPH phone: 302-672-6150
DPH email:  vaccine@delaware.gov.
---
Additional Resources