Carrie Lingo Gets Real About Wellness
Image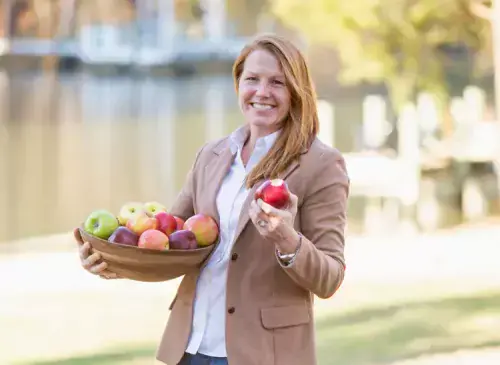 A SUSSEX COUNTY NATIVE, Carrie Lingo returned home after a successful career as a field hockey player for both the U.S. Olympic and U.S. National team. She now leads the Carrie Lingo Team as an associate broker at Jack Lingo, REALTOR®.  In addition to her extensive community involvement, she is a wife and the mother of two young sons, and a 1916 Club member.
Tips for balancing a busy lifestyle
Being a REALTOR®  is a 24/7 commitment. I could keep myself busy all day, every day. So, I do have to set parameters and time frames.
Having made the transition from a professional athlete to a working mom, I've noticed a lot of similarities between the two in terms of time management. There's certainly an aspect of discipline to both lifestyles. I might even say that the family lifestyle is more chaotic!
In today's world, everyone wants us to be available all the time, not to mention the activities and technology available for children. One thing we're practicing at night is sitting quietly and trying to close our eyes in order to wind down. It's important to develop the ability to tune things out, be quiet, and allow for time to focus on ourselves. This is especially true for the children in a world with so much to offer at their finger tips.
Wellness on your terms
To me, wellness is balance – balance between family and friends, home and work, and community and self. If you can meet your personal goals while maintaining your well-being, everything else will fall into place.
Two things to live well
I try to do 10-20 minutes of exercise at least five days per week. My workout usually involves squats and push-ups; it's basic, but it's something. 
I call it the "mom workout." I find myself interrupted regularly! 
Something we all enjoy is cooking as a family. The boys take charge of the salads. We also have dinner with my extended family a few times per week. For these meals, the boys help cook for everyone.
This article was first published in Beacon magazine - Spring 2020.
---