Community rallies to support Beebe COVID-19 Relief Fund
Image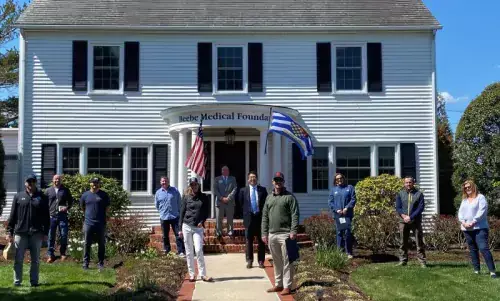 Beebe Medical Foundation brought its COVID-19 Relief Fund online March 20. The purpose of the fund is to help cover medical equipment, supplies, and costs directly associated with patient care to enable our team members to continue doing what it takes to keep everyone safe. As the COVID-19 crisis continues to unfold, needs may increase or change, and our community – as always – has risen to the occasion to support Beebe, its local, not-for-profit healthcare system.
As of Friday morning, April 3, the fund had received donations from more than 250 individuals and organizations, raising just over $370,000 in cash and physical donations.
The online donation portal encourages donors to write personal messages to Beebe doctors and nurses who are working to keep our community safe. Messages have been personal and moving; examples include: "Thank you for all that you do! We are so grateful," "Thank you for putting your lives at risk to help the sick! God bless all of you," "Thank you for all that you do every day – especially during this time," "You are in my prayers. God bless you for your service," "Thanks for all you are doing! Your dedication and passion are keeping us healthy and safe," "Thank you for your courage, spirit and service. May you and your families stay healthy as you care for others," "Thank you for all you do, Beebe doctors, nurses and staff. You are our heroes!"
The support from our incredible community has not stopped there. Kathleen Schell and Justin Healy of Ocean Atlantic Sotheby's have launched the Crush Corona Challenge. This initiative has set a goal of providing a $25 restaurant gift card to every one of Beebe Healthcare's 2,900 employees. It aims to give at least one hot meal to each of Beebe's employees after a long shift, while supporting local restaurants.
Along with Schell and Healy, several other community members and local restaurants have joined in the #CrushCorona movement. Postings are rolling in on the #CrushCorona Facebook page from other individuals who have committed to purchasing gift cards for the cause. Beebe Medical Foundation encourages everyone to reach out in whatever way they can to acknowledge the excellent care that Beebe Healthcare is providing to our community during this COVID-19 pandemic crisis – and has provided since 1916! Together, as a community, we will weather this crisis.
As a community-based, not-for-profit healthcare system, Beebe Healthcare depends on the generous support of individuals, local businesses, corporations and private foundations. To make a gift to Beebe's COVID-19 Relief Fund or participate in the Crush Corona Challenge, go to www.beebemedicalfoundation.org or call 302-644-2900.
---