Time to Get Your Family Dinner On
Image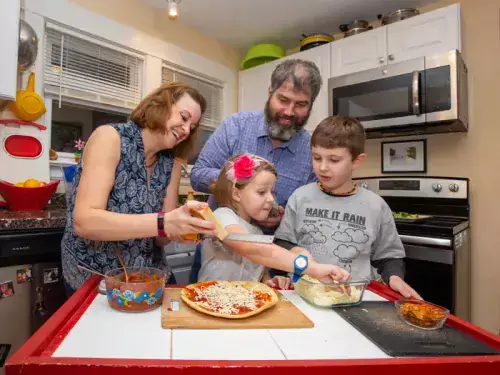 Every family dinner looks different, but they all provide many benefits. So, even if your family dinner doesn't look perfect, still make time and do it!
Research continues to show how beneficial sitting down to a meal with the family is for every member of the family. Family dinners, as part of your daily routine, give you the opportunity for small talk with your small fries. Each conversation between parents and children is important!
Manners Matter
Family dinners also teach valuable skills around conversation, table manners, and proper dinner etiquette. In my house, the kids help set the table and get their own drinks. They must try each item on their plate (this can sometimes take extra time, and that's OK!). At the end, they must ask to be excused and carry their plate to the sink.
Casual Chat
Other than that, the rest of the time is just for us to chat and get caught up. I generally ask what they ate for lunch or what was the best part of their day (usually recess or coming home). 
I also try to gauge who they played with, who they are liking right now, and who they maybe are struggling with. We talk about homework or any issues that might come up around their studies. 
Grown Up Gab
However, the conversation is not all about them. My husband and I also talk about our day. We talk about any upcoming parental scheduling that we might need to work out. And, on some occasions we talk about something that happened in the news or in local events.
It's basic and simple. Some days there isn't much to talk about.  Other days, it's like the floodgates open.
Interested in reading more of Rachel's ramblings? 
Check out her blog, Be Real, on the Beebe Women's Blog page of the Health Hub – your one-stop for health articles, blogs, and information: 
www.beebehealthcare.org/health-hub. 
DOWNLOAD: Have a healthy family pizza night tonight (grocery list and recipe card).
This article was first published in Beacon magazine - Spring 2020.
---