Beebe's excellent care and genuine caring are truly lifesaving
Image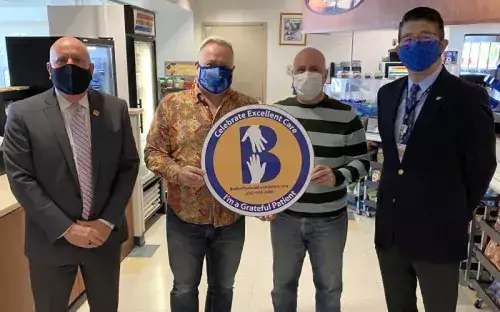 By Joe Zuber-Ciarlante
I was in Mexico when Darryl called me. It was Saturday, March 28, 2020. I remember he was moody and our conversation was very brief. When I woke up Sunday morning, I FaceTimed Darryl and he told me he couldn't talk. He said, "Joe, I'm having difficulty breathing and I'm waiting for Dr. Sordi to call me back." Although he looked OK, I knew he was sick – but I didn't know how sick he actually was.
Dr. Mark Sordi told Darryl to go immediately to the ER at Beebe. I remember telling him, "Darryl, just remember one thing: Because they don't know what your condition is, they're probably going to come out to you in full PPE. Just don't be surprised or afraid."
The Emergency Department team at Beebe got him right in and I FaceTimed with Darryl again. This time he looked a little sicker, and I remember thinking it must be the flu. We talked and prepared ourselves for what we thought would be a one- to three-day stay at the hospital.
Darryl said, "Joe, they're going to take me upstairs; let's say goodbye. I'll talk to you later. Do me a favor – please don't go to the beach today; just stay home." Sundays are our normal beach days, and this was the only thing he asked of me. That was at about 11:15 a.m.
A couple of minutes later, Beebe Chaplain Paula Waite called and asked if Darryl would like visits. I said, "Yes, Paula, that would be so nice. We belong to the Episcopal Church and if you could, please do visit and say some prayers with him." I still had no idea how sick Darryl was.
About 15 minutes after Paula's call, Dr. Sevak Keshishyan called; he asked about our relationship. "Joe, are you and Darryl boyfriends, partners, or are you married? What would you like me to call Darryl?" I told Dr. Keshishyan that we are married and Darryl is my husband, and he confirmed, "Joe, Darryl is your husband and we will all refer to him as your husband."
I wasn't expecting what Dr. Keshishyan said next. He was straightforward and very compassionate, but he needed to let me know how serious Darryl's condition was. "Joe, your husband is extremely, critically ill, and we think he may only have 30 minutes to live. Darryl has COVID. He is having great difficulty breathing, and he needs to go on a ventilator. I understand you both have living wills and Darryl doesn't want to be kept alive artificially. Joe, you need to make a decision."
At that point I recalled many of the conversations Darryl and I had had over our 32 years together. We had talked about what to do and what we wanted each other to do if one of us became seriously ill. I said to Dr. Keshishyan, "If putting Darryl on a ventilator is life support, then we don't want it." He said, "Joe, without the ventilator, Darryl will die." I told him I understood this and would have to accept that it was our decision.
I hung up the phone and immediately called my parents. My mom said to me, "No, Joseph, you are making a mistake. Call your family doctor." So I called Dr. Sordi and explained the whole situation. Dr. Sordi knew about the advance care directives Darryl and I had made, but he said, "Joe, with COVID, the only way we can possibly save Darryl is by putting him on a ventilator."
Within 15 minutes, we had decided together – me, my parents, and our doctor. I hung up and immediately called the ICU. Dr. Keshishyan answered, and I said as quickly as I could, "Dr. Keshishyan, this is Joe Zuber-Ciarlante. I have reversed my decision; I want you to put Darryl on a ventilator." Before hanging up, Dr. Keshishyan told me they had placed Darryl on a ventilator, and Beebe would do everything humanly possible to save my husband. Then he asked, "Joe, how quickly can you come back to the United States?"
I caught the first flight back and cried the entire time. When I arrived at the airport, Dr. Keshishyan called and consulted with me about five or six medications they wanted to give Darryl. I said, "If you think they could work and this is what you would do for a member of your family, then please, do it for Darryl."
Everyone I talked with at Beebe always referred to Darryl as my husband, which was such a demonstration of their empathy. I felt that every person there really cared about Darryl the same way they would care about their own family member.
Every day I had at least five calls from doctors, nurses, and the chaplain. I'll never forget a call from Ash, one of Darryl's nurses; she wanted me to talk to him. Ash said, "Joe, I'm going to hold the phone to Darryl's ear so you can talk to him. You can be as intimate as you want. I'm not listening; you're talking to Darryl."
Darryl's nurses in the ICU were my link to being with him when I couldn't actually visit. They would assure me that he could hear my voice, even though he made no response. They would tell me that sometimes Darryl would move his feet in reaction to certain things I said to him.
After 23 days, Darryl was able to come off the ventilator. One night, his nurses sent me a video of him walking for the first time, when there was no one else around. I got to see him taking his very first baby steps! The strides he made from that point on were incredible, and after 40 days in Beebe, Darryl came home!
Some of Darryl's family had wanted him relocated to a big-city hospital. But, in my eyes, there were always some 2,800 Beebe team members caring for and praying for my husband, Darryl. This is what makes Beebe so different and so very special – everyone's deep, genuine compassion for their patients and their families. Everyone routinely asked me, "How are you doing, Joe?" You're not going to get that in a big-city hospital. You just aren't! I firmly believe that Darryl is here today because of the excellent care and incredible compassion we both received at Beebe Healthcare.
Beebe Healthcare is committed to providing quality care for all of its patients, their families and visitors. Beebe offers a safe place where members of the lesbian, gay, bisexual, transgender, and questioning communities can access care with respect and dignity. Beebe Healthcare has been recognized by the Human Rights Campaign Foundation as an LGBTQ Healthcare Equality Leader. Beebe partners with CAMP Rehoboth for health screenings, health fairs, and a wide range of health services for the LGBTQ community, and is also a proud CAMP Rehoboth supporter.
As a community-based, not-for-profit healthcare system, Beebe Healthcare depends on the generous support of the community it serves. To make a gift to celebrate the excellent care you or a loved one has received, visit Beebe Medical Foundation at beebemedicalfoundation.org or call 302-644-2900. Want to share your story? Contact Amanda Neal at [email protected].
---