Beebe's South Coastal Emergency Department from a different view
Image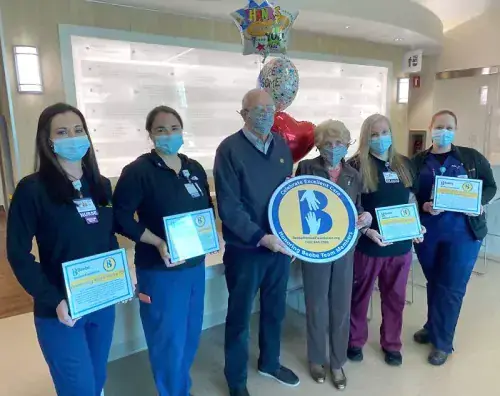 By Maureen Hurst
Since moving to Ocean View in 2005, my husband Jim and I knew that Beebe would be our destination in the event of a medical emergency. In 2007, I read a media article about Beebe's plans for a much-needed South Coastal Health Campus. As a former critical care RN, I closely followed the news and long-range plans.
After reading that article, I remembered my 23-year exposure to "Our Credo" while employed by Johnson & Johnson. The Credo is a timeless document written over 75 years ago by Robert Wood Johnson. One section reads, "We are responsible to the communities in which we live and work, and to the world communities as well."
Jim and I decided to be regular contributors to Beebe Healthcare. Sadly, the 2008 recession brought progress to a halt, but Beebe's plans were never abandoned, only postponed.
In 2015, I was asked to join the Beebe Medical Foundation Board of Ambassadors. Subsequently, Jim and I joined the 1916 Club, and supported fundraising activities and events. The long-awaited plans for the South Coastal Health Campus were accelerating.
In early 2020, we signed beams and celebrated construction milestones. Jim and I invited our neighbors to pre-opening tours of the emergency department. Having worked in ERs in Philadelphia, Lancaster, and Princeton, my first tour was an awakening. I was in a state-of-the-art facility that made me want to go back to work! Then, in March 2020, came COVID. Beebe's new Emergency Department and Cancer Center opened without fanfare. Jim and I would pass by while on our "sanity drives" to check activity. I so wanted to go in and see the action, but couldn't, because of COVID.
Then, on Jan. 19, I saw a very different view of the Emergency Department. Not as a donor, not as a nurse, but as a patient. A sudden onset of severe abdominal pain prompted an ambulance call. The EMTs were reassuring and took me to Beebe's South Coastal Emergency Department promptly. I was immediately given pain medication, a CT scan, lab work, pints of blood and then a diagnosis.
Both Jim and I were comfortable and knew we were in good hands. I learned I would be airlifted so an interventional radiologist could perform an immediate embolization procedure. When the helicopter arrived, I was prepped for transport. Just as we were leaving, I heard the nurse ask my husband, "Jim, do you want to kiss your wife goodbye?" To me, that moment was special and clearly demonstrated the empathy our Beebe Healthcare professionals have for their patients.
Now I, the career nurse, can say, "I have had a complete tour of every room and service in Beebe's South Coastal Emergency Department and I have experienced excellent care live!"
Jim and I give an A+ to the Beebe Healthcare staff on duty that night, and we celebrate the excellent care provided by Kristin Hurley, RN, Laura Mitchell, RN, Lisa Smale, DO, and the lab and X-ray technicians.
As a community-based, not-for-profit healthcare system, Beebe Healthcare depends on the generous support of the community it serves. To make a gift to celebrate the excellent care you or a loved one have received, visit Beebe Medical Foundation at beebemedicalfoundation.org or call 302-644-2900. Want to share your story? Contact Amanda Neal at [email protected].
Caption: Jim and Maureen Hurst celebrate their long history of supporting Beebe's South Coastal Emergency Department as well as their recent direct experience there. Shown are (l-r) Kristin Hurley, RN; Dr. Lisa Smale; Jim and Maureen Hurst; Laura Mitchell, patient care tech; and Molly Kucharski.
---