Self-Breast Exam Leads to Breast Cancer Diagnosis … and Survivorship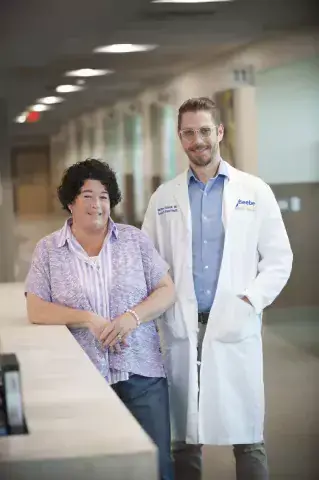 By Tracy Fitzgerald
When Mary Kay Dommes and her husband Christopher decided to retire to Rehoboth Beach, they envisioned days filled with fun-in-the-sun, dining out at great restaurants, evening sunsets, and long walks on the beach. What they did not anticipate was settling into their new hometown, only to learn a short while later that Mary Kay had breast cancer. It was at that time that the couple realized yet another benefit associated with their decision to retire at the beach – easy access to Beebe Healthcare and its comprehensive Oncology Services and Center for Breast Health.
"I am not really one to go to the doctor unless there is a specific problem to address," said Mary Kay. "But when I felt a lump in my breast the Sunday before Thanksgiving, I knew I needed connect with my family physician for direction on where to go and what to do, quickly."
Within a few days, Mary Kay had a mammogram and a referral to see Matthews Richards, MD, a board certified and fellowship trained breast surgeon at Beebe Healthcare, who advocates strongly for early detection of breast cancer. The two forged a genuine connection as Dr. Richards shared his proposed plan of care to guide Mary Kay on her journey toward survivorship, as well as his own personal story as a cancer patient.
"Dr. Richards had been in my shoes, so he understood my fears and feelings, and empathized with me," Mary Kay recalls. "He was incredibly kind and clearly educated, but most important was that he listened to me and gave me answers that really helped. Because of this, I trusted that he was going to do the right things and be there for me through each step of my treatment. And, he was."
Dr. Richards says that Mary Kay's story, and the fact that she detected a lump in her breast on her own, is more common than most people realize. It's also precisely why he makes it a priority to educate patients about the importance of not only annual mammograms, but routine self-breast exams, too.
"You hear a lot about self-breast exam and that women should routinely check their breasts," said Dr. Richards. "What we are really encouraging them to do is identify anything that feels different or out-of-the-ordinary. It's about getting to know what is normal for your body, and paying attention to any changes that could be considered concerning. Mary Kay's story serves as an important reminder for all women, who need to take the time to conduct self-breast exams and act quickly if something doesn't feel right."
Dr. Richards is part of a dynamic team of skilled and experienced specialists at Beebe's Center for Breast Health, who deliver comprehensive care for women diagnosed with cancer and other complex medical issues of the breast. The team is committed to treating patients holistically, accounting for personal needs and priorities from the time a diagnosis is made, through the process of treatment, into remission, and extending to survivorship.
"Surgery is my specialty, but its just one step in a process that can be very complex and long-term," said Dr. Richards. "We are always thinking about next steps and what we can do to assure our patients continue to recovery, heal, and thrive, not only during their treatment but for the rest of their lives."
Mary Kay said Dr. Richards' commitment to her care touched her in ways she didn't expect.
"Dr. Richards came to see me after my surgery, which I know is rare. And that really meant a lot to me and my family," said Mary Kay. "My care team walked me through a tough process, and were so compassionate and caring, even on the days when I was not the easiest patient. They made me comfortable and confident, and because of them, I am living a normal, happy, healthy life, today. I still have a lot of things I want to do in my life. With breast cancer behind me, now I can."
As a community-based, not-for-profit healthcare system, Beebe Healthcare depends on the generous support of the community it serves. To make a gift to celebrate the excellent care you or a loved one has received, visit Beebe Medical Foundation at beebemedicalfoundation.org or call 302-644-2900. Want to share your story? Contact Amanda Neal at [email protected].
Caption:  Grateful patient, Mary Kay Dommes with Dr. Matthew Richards
---