Tips for Managing Your Insulin Pump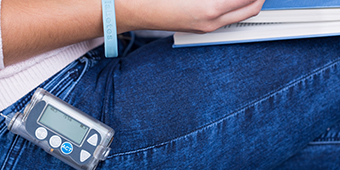 Whether you have been using an insulin pump (continuous subcutaneous insulin infusion) for years or you are new to pumping, there are many tips that can help your experience and ensure success.
There are many insulin pumps available on the market.
One that is not yet available is a fully-automated closed-loop system or artificial pancreas that combines continuous glucose monitoring with insulin pump technology. However, even those this closed-loop system is not yet available, there are many insulin pump companies that offer an add-on continuous glucose monitoring (CGM) system.
For those with type 1 or those who have issues controlling blood sugar levels due to advanced disease, a CGM and insulin pump connected system might be the best option.
When choosing an insulin pump, consider:
Your insulin sensitivity. If you are very sensitive, you may want a pump that is able to deliver very small increments of insulin.
Your total daily insulin requirement. If you need large amounts of insulin throughout the day, you may want to consider pumps with larger reservoirs.
Your activity level. There are tube and tube-less insulin pumps. If you are very active, you may want to consider tube-less.
Connected systems. If you prefer to monitor your glucose levels more frequently and like the idea of a smartphone app, you will want to consider connected systems that allow for the flexibility and technology you are interested in.
CGM connectivity. If you are also using continuous glucose monitoring and want the two systems to communicate, you will want to look at pumps that allow that.
Cost and insurance coverage. Be sure to understand what pumps are and are not covered by your insurance.
Managing your insulin pump
Once you have selected the insulin pump and system that are right for you, you will want to fully read the instruction manual to understand all of the capabilities of your system. It is a good idea to also have a loved one go through the documentation as well so that both of you understand the system.
In addition, you will want to know how to clean the pump and any tubes associated with it. In most cases, wiping it down with a damp cloth is sufficient. Most pumps are not to be submerged in water.
As you get used to your pump, be sure to regularly check your blood sugar to make sure the insulin is working properly. If you notice more fluctuations than normal or more severe fluctuations, talk to your doctor or your insulin pump provider to understand what might be happening.
As you age, your insulin needs may vary, so it is important to talk regularly to a certified diabetes educator.
If you are interested in learning ways to better manage your diabetes, Beebe's Population Health team offers free "Healthy Living with Diabetes" classes. Learn more: 302-645-3337. NOTE: Beebe Diabetes Management has temporarily suspended group support meetings and group classes due to COVID-19. Anyone affiliated with these groups, or anyone who needs support, can call the office and set up a telemedicine appointment. In-person appointments are also available. Call 302-645-3121.
If you need help managing your type 1 or type 2 diabetes, education on using your insulin pump, or have questions about new devices that can help you manage your diabetes, Beebe Endocrinology can help. Call 302-648-7999.
---