Judy Aliquo Retires with Historic Beebe Campaign Announcement
There wasn't a better way to retire for Judy Aliquo. On December 12, the President and CEO of the Beebe Medical Foundation announced that donors contributed more than $45 million to the I Believe in Beebe campaign during the last four years.
The historic campaign surpassed the previous campaign total, which was $12.5 million for Vision 2005, as well as the $34 million goal set for the I Believe in Beebe campaign in 2018. Judy says the community's investment in Beebe Healthcare has been so inspiring, and it's something she will cherish as a member of the community during retirement following nearly seven years with the Foundation.
"What's been really inspiring from some of those investments," Judy says, "is that they've been from grateful patients who our Beebe heroes have saved and changed their life, and they wanted to give back to say thank you for that amazing care that they've received."
While Judy is grateful for each and every donor, many who have become her friends, the $10 million from Randall and Margaret "Peggy" Rollins' Ma-Ran Foundation was definitely a wow factor because not many organizations ever receive a gift of that size, she says.
"The Ma-Ran gift transformed what we could raise because so many people knew with that investment, Beebe was a place that should be invested in," Judy says.
Follwing Judy's retirement at the end of 2019, Tom Protack, Vice President, Director of Development, will take over her role and continue the momentum built by the I Believe in Beebe campaign.
"The best way I can say thank you to Judy is to keep her legacy alive by remembering what she taught me and our team," Tom says. "Not only to continue it but to build on it. I think the best way to thank your predecessor is to continue to grow and continue to do better in all the programs."
Believing in Beebe
When Judy decided to leave Wilmington Friends after 23 years to come to Beebe Medical Foundation, it was easy to believe in Beebe and make a difference.
She and her husband, Jim, had received excellent and compassionate care in Beebe's Emergency Department before and it was "phenomenal," Judy says.
"As a fundraiser, you have to have great passion and belief in what you're raising money for," Judy said, "and when I was interviewing, I thought I really wanted to make a tremendous difference to the healthcare system that's going to be my healthcare system for the rest of my life. I feel like we really did make a difference. It was building the right team. It was paying attention to donors, making sure that they knew who we were and knew what Beebe was doing, and that they knew the impact of their giving."
What was different about fundraising between Friends and Beebe was the impact that it could have on the community. Donors shared with Judy that the best investment that they can make is with their healthcare system.
"Education is a phenomenal cause to fundraise for, but when you're talking about saving and changing lives – Beebe does that every single day 24/7 – and for me, what I didn't realize until I got here, was how amazing it would be raise money for healthcare," she said.
Grand babies and bucket lists
"Now what" is a question she's been asked more than a few times.
And, of course, family is at the forefront. Judy said she looks forward to spending more time with her three grandchildren, Cora, Hansie, and Isla, who are all under 2 years old. She also looks forward to spending time with her in-laws down in Florida.
And, after being together for 44 years and working full-time throughout, Judy and her husband, Jim, also plan on making a travel bucket list.
First up, New Zealand and maybe Australia, but not without a few more thank-yous and fond memories of Beebe in her final few days.
"This has been such a rewarding career and I am so proud of the team we built at the Foundation, as well as getting to know our Beebe heroes," Judy says. "I'm in awe of our nurses and doctors who are there 24/7 to take care of us in our greatest time of need. For me, it has been an honor to get to know people who do such a noble profession. It has been life-changing for me. It really has. The Foundation team rocks and will be in great hands with Tom Protack leading the way. What a gift it has been to work with Beebe team members who are dedicated, compassionate, and inspiring colleagues. Truly the best I've ever worked with."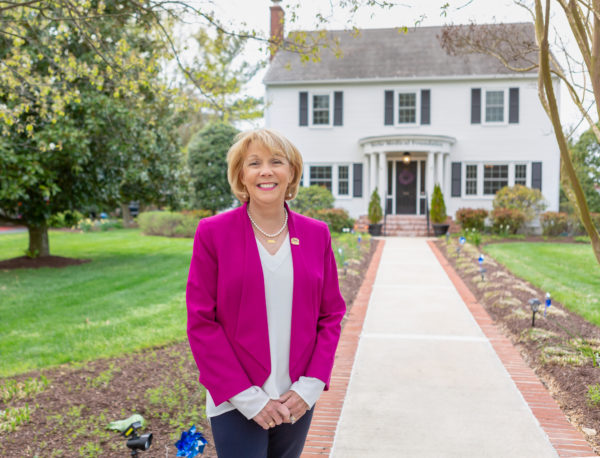 ---