Beet & Apple Salad on Millet
Image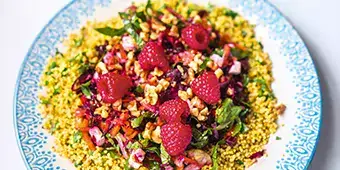 The bright colors and flavors of beets, apples, and raspberries are met with the nutty warmth of millet, a healthy grain which is full of magnesium and filling fiber.
Beet & Apple Salad on Millet
Source: Blue Zones
Ingredients
3 beets with leaves on
1 carrot, scrubbed and grated
1 sour green apple, cored and roughly grated
½ a small red onion, peeled and roughly grated
7 ounces (200g) firm tofu, pressed and diced into small cubes
A handful of raspberries
A handful of toasted walnuts or hazelnutsFor the millet:
Generous ¾ cup (175g) uncooked millet
1¼ cups (300ml) water
1 tablespoon olive oil
2 teaspoons fresh thyme leaves
½ teaspoon salt
3 tablespoons finely chopped fresh parsley
1 x raspberry dressing (see below)
RASPBERRY DRESSING INGREDIENTS
Simply mix all the dressing ingredients together and set aside.
2 tablespoons raspberry vinegar
1–2 tablespoons apple juice concentrate
4 tablespoons olive oil
1 teaspoon sea salt
Instructions
Cut the leaves off the beets, keeping them whole. Cut the stems into ¾-inch (2cm) pieces, and scrub and roughly grate the roots.
In a small pot, toast the millet for 7 minutes, until it starts to become golden, shaking and swirling the pot frequently to keep the millet moving. Add the water, lower the heat to the lowest setting and cover. Cook for 30 minutes. Fluff up the millet gently with a fork, and heat a little longer if it is still damp. Turn out onto a plate and leave to cool.
When the millet is just warm, stir in the olive oil, thyme, salt and most of the parsley. The millet may be sticky, which is fine. Break it up with your hands – the olive oil and parsley will help with this.
Make the raspberry dressing by mixing all of the dressing ingredients together. Place all your grated bits in a large bowl and stir in most of the dressing, along with the chopped beet stems.
Arrange the sliced beet leaves around the edge of a serving plate and spoon the millet in the center. Scatter the grated bits and tofu chunks over the top, followed by the raspberries and nuts, then drizzle on a little more dressing and sprinkle with the rest of the parsley.
---