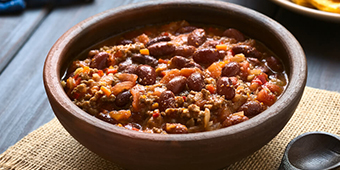 This warm and hearty chili can feed a crowd and warms you through and through.
Hearty Vegetarian Chili
Ingredients
2 tablespoons olive oil
6 large white onions, diced
3 (14-ounce) cans diced tomatoes
3 (15-ounce) cans kidney beans, rinsed and drained
1 (42-ounce) container dairy free creamy tomato soup
1 teaspoon chili powder
3 (10-ounce) packages frozen "beefy" crumbles, optional
Instructions
Preheat oven to 350°F.
In a large (6-quart) cast-iron or enameled Dutch oven, heat oil over medium-high heat. Add onions and cook until softened, 10 to 15 minutes. Add the "beefy" crumbles, if using, and cook, stirring occasionally, until the crumbles have thawed, about 3 minutes. Add tomatoes, beans, soup, and chili powder.
Stir well, transfer to oven, and bake, uncovered, for 1 hour, stirring every 30 minutes, until it cooks down to chili consistency.
Enjoy!
Looking for more heart healthy recipes and tips to improve your health? Check out our resources on the Health Hub!
---