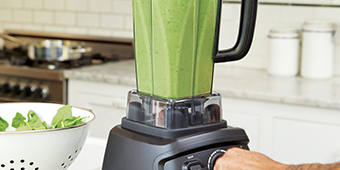 It's actually easy being green, especially when you are a yummy green smoothie!
Looking for a fast, vitally energizing breakfast or afternoon pick-me-up? This refreshing smoothie combines nutrient-rich spinach with sweet fresh pineapple and cooling cucumber and mint. Pureeing rather than juicing these ingredients preserves all their valuable natural fiber, so you'll feel satisfied the healthy way.
Source: Ornish
Ingredients:
2 CUPS fresh spinach leaves, firmly packed
1 1/2 CUPS pineapple, peeled and chopped
3/4 CUP cucumber, peeled and chopped
3/4 CUP fresh mint leaves, lightly packed
1/2 CUP water
3/4 CUP ice
1 TEASPOON lemon juice
Optional: Liquid or powdered stevia
Directions:
Combine spinach, pineapple, cucumber, mint, water, ice and lemon juice in a blender. Blend on high speed until smooth. Taste and add a small amount of stevia for sweetening, if necessary.
Enjoy!
---