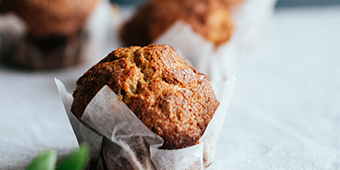 Full of warm spices and sweet apple, these wholesome muffins make a healthy start to the day. They can also serve as a delightful afternoon snack or dessert.
Source: Ornish
Ingredients:
2 TABLESPOONS ground flaxseeds (flaxseed meal)
1/4 CUP water
1 1/2 CUPS whole wheat flour can substitute with gluten-free flour
1/2 CUP old-fashioned rolled oats
2 TEASPOONS cinnamon or pumpkin pie spice
3/4 TEASPOON baking powder
3/4 TEASPOON baking soda
3/4 TEASPOON fine sea salt
1/2 TEASPOON powdered stevia
1 1/4 CUPS unsweetened applesauce
1/2 CUP apricot fruit spread (fruit-sweetened only, no added sugar)
1 CUP apple grated (about 1 medium apple)
2 TEASPOONS vanilla extract
1/2 CUP raisins
Instructions:
In a small bowl, mix ground flax with water. Set aside for 10 to 15 minutes. The flax will absorb the water and create a thick gel.
Preheat oven to 350ºF. Line a nonstick muffin pan with paper liners, or spray the pan lightly with cooking spray. If using spray, gently wipe with a paper towel to remove excess oil.
In a medium bowl, whisk together flour, rolled oats, cinnamon, baking powder, baking soda, salt, and powdered stevia until well mixed.
In a large bowl, stir together the applesauce, apricot fruit spread, grated apple, flax mixture, and vanilla extract. Stir in half the dry ingredients, then add the remaining half and stir gently until combined. Add raisins and stir lightly to mix.
Spoon one third of a cup of batter into each muffin cup. Bake muffins until a toothpick comes out clean from the center of a muffin, about 25 minutes. Be careful not to overbake.
Remove muffins from the oven and let cool in the muffin pan for a few minutes. Remove muffins from the pan and let them cool on a cooling rack. These muffins are best served shortly after baking, but will keep in a sealed container for several days.
Enjoy!
---