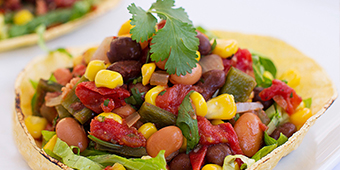 Black beans, pinto beans, and corn come together in this taco filling with a sauce of tomatoes, poblano peppers, and smoky chipotle peppers simmered with oregano and cumin. This dish offers lots of fiber, plant-based protein, and heart-healthy vitamins.
Ingredients:
ONE 28-OZ CAN fire-roasted diced tomatoes (suggested brand: Muir Glen)
1 CUP yellow onion peeled and diced
1 CUP fresh poblano chile peppers, seeded and diced
1 TABLESPOON garlic, pressed or minced
1 TABLESPOON fresh oregano, chopped, or 1 teaspoon dried
1 TEASPOON ground cumin
1 1/2 TEASPOONS chipotle peppers in adobo sauce, mash or puree before measuring
1/8 TEASPOON fine sea salt
1 1/2 CUPS cooked black beans or one 15-oz can no salt added black beans, rinsed and drained
1 1/2 CUPS cooked pinto beans or one 15-oz can no salt added pinto beans, rinsed and drained
2 CUPS yellow corn fresh or frozen
12, six-and-a-half corn tortillas
1/3 CUP fresh cilantro, chopped
3 CUPS romaine lettuce, finely chopped
6 cilantro sprigs for garnish, optional
Instructions:
In a medium-sized skillet over medium heat, combine tomatoes, onions, poblano peppers, garlic, oregano, cumin, chipotle puree, and salt. Cook, stirring occasionally, until onions are softened and flavors have begun to meld, about 10 minutes.
Stir in beans and corn. Bring to a simmer and let cook, stirring occasionally, for 10 minutes.
While beans are cooking, warm the tortillas, either in the oven on on the stovetop. To warm in the oven, preheat oven to 375ºF. Wrap corn tortillas in aluminum foil and place in the oven. Heat until tortillas are warmed through, about 10 minutes. Alternatively, turn a stovetop gas burner to high. Place tortilla directly over the flame. Let tortilla cook for 2–3 seconds, then turn, using tongs. Repeat, turning the tortilla every 2–3 seconds, until warmed through and browned along the edges. Repeat with remaining tortillas.
Just before serving, stir cilantro into corn and bean mixture. Taste for seasoning and add additional salt and/or chipotle puree, as needed.
To serve, spread ½ cup romaine lettuce on each warm tortilla, followed by ½ cup bean filling. Garnish with cilantro sprigs.
Enjoy!
---