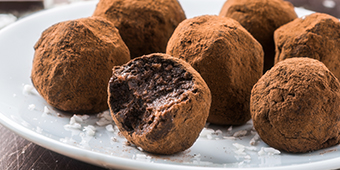 Chocolate lovers, rejoice! Finally, a moist, fudgy, delicious truffle that's good for you, too. Sweet, nutrient-dense medjool dates take the place of sugar here, while dark cocoa is rich in flavonoids (antioxidant compounds that help ward off inflammation and lower blood pressure) as well as in health-boosting minerals like iron and zinc. For a Mexican Truffle, add cinnamon and a pinch of cayenne. Or, add a few drops of peppermint or coconut extract to taste, for added variation. These can be made 2 to 3 days in advance and stored in the refrigerator until needed.
Source: Ornish
Ingredients:
1 CUP pitted medjool dates, preferably soft and moist, firmly packed (about 9 dates)
1/2 CUP unsweetened cocoa powder, plus an additional 1/4 cup cocoa powder for rolling
1 1/2 TEASPOONS vanilla extract
1/4 TEASPOON fine sea salt
1/2 TEASPOON cinnamon
optional: for Mexican Truffles, add 1/8 TEASPOON cayenne pepper
Instructions:
Place dates in a food processor fitted with a metal blade. Pulse dates several times to make a paste. Add cocoa powder, 2 tablespoons warm water, vanilla, and salt. To make Mexican Truffles, add cinnamon and cayenne. Pulse until mixture is smooth and forms a ball. (If mixture needs a little more moisture to come together, add 1-2 more teaspoons of water).
Remove chocolate mixture from processor and transfer to a bowl.
Put 1/4 cup cocoa powder in a shallow bowl. Using 1 tablespoon of truffle mixture for each ball, shape balls between the palms of your hands. Place truffles on a plate. (If mixture seems sticky, refrigerate until well chilled before rolling.) Roll each ball in cocoa powder after shaping and return to plate. Cover and refrigerate until serving.
Enjoy!
---