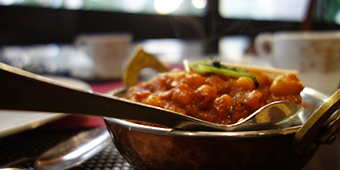 Red lentils make a fast and easy chili, perfect for warming up. This simple one-pot meal is excellent for a crowd or for a no-fuss dinner with family and friends. (It's even better the next day.) Butternut squash is easy to find, but you can also use kabocha squash, which has a rich, chestnutty flavor that makes it worth searching out.
Source: Ornish
Ingredients:
1 1/2 CUPS onions coarsely chopped
1 1/2 CUPS red bell pepper seeded and diced
4 CUPS low-sodium vegetable broth, divided
1 TABLESPOON fresh jalapeno pepper seeded and minced
1 TABLESPOON garlic minced
1/4 TEASPOON fine sea salt
1/4 TEASPOON freshly ground pepper
4 CUPS butternut squash peeled and cut in small cubes
1 LB cubed squash
1 CUP red lentils
1 TABLESPOON fresh lime juice plus more to taste
2 TEASPOONS chili powder
2 TEASPOONS ground cumin
1 TEASPOON smoked paprika
1 TEASPOON dried oregano
1/2 CUP cilantro, divided chopped
Optional: 6 small corn or whole-wheat tortillas
Instructions:
In a large, heavy-bottomed pot over medium heat, combine onions, red pepper, 1/2 cup of the broth, jalapeno, garlic, salt, and pepper. Cook, stirring frequently, until liquid is evaporated and onions are translucent, about 10 minutes.
Add remaining 3 1/2 cups broth, squash, lentils, lime juice, chili powder, cumin, smoked paprika, and oregano. Bring to a boil.
Reduce heat, cover, and simmer for 15 minutes, stirring occasionally. Remove lid and cook, stirring frequently, for an additional 15 to 20 minutes, until lentils are thoroughly cooked and squash is tender but still holds its shape. If mixture seems too thick, add a little water as needed. Chili is done when most of the liquid has been absorbed.
Stir in 1/4 cup of the cilantro, if using. Taste for seasoning and add more lime juice and/or spices as needed.
Divide into 6 bowls. Garnish each bowl with a sprinkle of the remaining cilantro, if desired. Serve each bowl with a warmed whole wheat or corn tortilla, if desired.
Enjoy!
---