Sweet & Spicy Jicama Slaw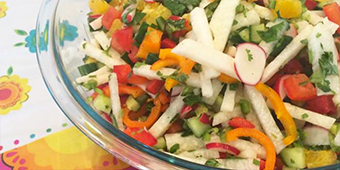 Looking for a healthier dish to serve at your next party or potluck?
This jicama slaw is a blend of sweet citrus, refreshing jicama, and a kick from radishes and Thai chile peppers. It's the perfect side for your next event (and it is heart healthy and Ornish approved)! It's great on its own or as a topping for veggie burgers or fish.
Spicy & Sweet Jicama Slaw
Source: AllRecipes
Ingredients:
1 large jicama, peeled and julienned
2 naval oranges, peeled and cut into chunks
1 large red bell pepper, cut into bite-size pieces
1/2 cucumber, diced
3 small yellow peppers, sliced
2 small orange peppers, sliced
4 radishes, thinly sliced
3 Thai chili peppers, minced
1/2 jalapeno, diced
1/2 bunch cilantro, chopped
1 lemon, juiced
Salt and pepper, to taste
Instructions:
Prep all of the ingredients and toss them together in a bowl. Refrigerate prior to serving. Enjoy!
---