Health Bomb: Hummus & Veggie Wrap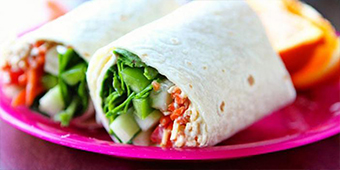 Hummus is a great way to add additional fiber as well as health benefits of chickpeas. Hummus can be made with white beans, garbanzo beans (chickpeas), or even black beans. In addition, it can also be made with or without oil. In the following recipe, you can use your favorite style of hummus and all of your favorite veggies.
Hummus & Veggie Wrap
Source: Lauren's Latest
Ingredients:
2 large flour tortillas
1/2 cup hummus
All the veggies! Choose carrots, cucumber, lettuces (spinach, kale, endive), green pepper, jicama, tomatoes, onion, etc.
Optional - grated cheese and lean deli pepper turkey
Instructions:
Lay a flour tortilla flat on your work station and spread 1/4 cup of the hummus from side to side close to one of the edges. Top with all your veggies and then wrap up.
Enjoy!
---